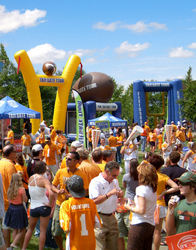 We are very excited about this year's tour and have a great group of partners to help make it the best yet
Los Angeles, CA (PRWEB) October 6, 2009
For the 8th straight year, Triton Innovative Marketing has rolled out The 2009 Tailgate Tour. Billed as the largest fan experience marketing tour in the U.S., the tour is hitting the biggest Football game match-up's over the next few months and getting large attendance in its first month. The tour will touch over 1 million consumers at site and many more online and across our media partners.
Tour Dates include:
UCLA at Tenn. - Sept 12
Tenn. at Florida - Sept 19
Illinois at Ohio State - Sept 26
Oklahoma at Miami - Oct 3
Alabama at Ole Miss - Oct 10th
Kentucky at Auburn - Oct 17
Texas at Missouri - Oct 24
Georgia vs. Florida - Oct 31st (Jax)
Nov 7th open date
Florida at South Carolina - Nov 14
OSU & Michigan Nov 21
UCLA at USC - Nov 28th
This year, Triton is featureing a host of partners and sponsors that include long time partner Fox Sports Radio & Sirius XM plus newcomers Tailgater Monthly, The Travel Channel, Jarden Consumer Solutions brand Margarittaville, PlayStation, Glidden Paints, Hurricane & Parti Kraft Boats and American Beverage Marketing. Tour partners will play a key role in a national contest that is being promoted across the tours assets including http://www.tailgatetour.com that includes a giveaway of a Deck Boat from Hurricane Boats valued at over $50,000, A Trip to the National Championship Game, Playstation units & EA games, Sirius XM Receivers and Tailgating Grills. Weekly winners are finding their way to big prizes by registering at the events.
"We are very excited about this year's tour and have a great group of partners to help make it the best yet" says President Jay Freedman. "Between the many calls from universities around the country asking us to attend their events and overall response to this evergreen program, It clearly shows that we bring a great deal of value to the fan and the game day experience."
Triton will add some new twists to this year's events including live streaming from the tour, "The World Largest Corn Hole Game", a Tropical Oasis from Margarittavile, on-site gaming competitions by PlayStation, Eating contests sponsored by Travel Channels Man v Food as well as bigger than life skills competitions. Tailgatetour.com has gone through a redesign and now features a host of activities to include a weekly Pick, Score & Win game where fans can challenge themselves for free and win big. Tailgatetour.com will also offer for the first time, a compilation CD for sale featuring the most requested songs of the biggest stadium rock hits called Tailgate Tour Fan Jams. Inside the CD will be discounts from various tour sponsors.
The Tour has drawn interest from some of today's top sports marketers and received significant accolades from major Universities and pro teams. "We are about connecting brands with consumers first and foremost in an environment that is friendly, filled with energy and fun for the family. Ultimately our goal is about providing a WOW" Freedman expressed.
About Triton Innovative Marketing
Triton Innovative Marketing is a strategic integrated marketing company that directs an array of custom marketing programs for Radio, TV and Brands. Triton Experience creates proprietary content centered around some of the largest events in the U.S. http://www.tritonexperience.com
More Details, Contact: Suzanne Blayes
###