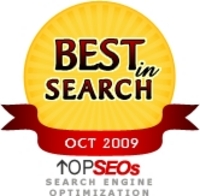 We are delighted to find ourselves coming out on top for the 11th consecutive month
Cheshire, England (PRWEB) October 7, 2009
SEO Consult, having maintained their ranking as the number one SEO agency in the UK every consecutive month since December 2008, have once again been placed at the head of the pack by TopSEOs.com.
TopSEOs are an independent search vendor, who rank agencies on a monthly basis by determining how well they meet comprehensive criteria, such as the time in which first page organic listings are achieved for SEO clients, customer satisfaction, competitive cost, client retention and all areas of customer service.
In order to check the validity of statistics provided, TopSEOs also contact at least 3 search engine optimisation customers of each agency to get their feedback on the services provided. SEO Consult have once again achieved an overall score of 100%, ensuring they remain in the number one spot for Best In Organic Optimisation in the UK.
"We are delighted to find ourselves coming out on top for the 11th consecutive month," said Matt Bullas, Managing Director of SEO Consult. "Getting great results for our clients is what we are all about, so this award shows that we are doing our job well, and doing it consistently to the highest possible standards. Our aim is to continually improve our strategies, methods and services so that we stay at the head of the UK search engine optimisation industry. "
To find out more about SEO Consult, their free website analysis or any of their other services, please visit our website at http://www.seoconsult.co.uk or call 0845 205 0292.
About SEO Consult:
SEO Consult is the specialist SEO division of Click Consult. Established in 2003, Click Consult is a leading provider of Search Engine Marketing (SEM) solutions, including Pay Per Click (PPC) Campaigns, Content and Banner Advertising, Search Engine Optimisation, Affiliate Marketing, Shopping Feeds, Website Design and Development, E-Mail Marketing and Online PR. With over 40 Staff in Cheshire and London, Click Consult has over 200 PPC and SEO clients in every major industry. Click Consult is fully certified by Google AdWords, Microsoft adExcellence, the Internet Advertising Bureau, SEOCertification.org and TopSEOs.com.
###