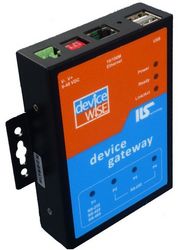 We are excited to see the wide range of challenging problems which are solved with the deviceWISE Device Gateway in both an elegant and sustainable fashion.
Boca Raton, Fla. (PRWEB) October 7, 2009
ILS Technology, LLC, an industry leader in enabling intelligence through connectivity, today announced the release of the deviceWISE Device Gateway, a new product in the company's deviceWISE family of intelligent connectivity products.
The new deviceWISE Device Gateway is an integration appliance that eliminates complex, error prone, manual entry setup by directly mapping data between different devices seamlessly without requiring any configuration changes in either device. The Device Gateway helps users pick best in class hardware components and integrate them with ILS Technology's easy to use Workbench configuration tool. Using the deviceWISE Device Gateway customers can now enable their Programmable Automation Controllers (PAC) and other automation devices to send messages directly to each other without requiring polling like most other applications in the industry, resulting in increased reliability of the communication and decreased network traffic.
The deviceWISE Device Gateway enables modern devices to access data from legacy equipment installed on the factory floor, and can communicate with them through a wide variety of protocols including RS-232, RS-422, RS-485, and Ethernet interfaces allowing for maximum flexibility without the need for additional protocol conversion.
In addition to supporting traditional interface protocols, the deviceWISE Device Gateway also enables industry standard protocols and information models including OPC-UA, Ethernet/IP, Modbus, ISA-95, ISA-88, MIMOSA, and EDDL. The Device Gateway enables future-proof communication architectures that can be readily deployed across industries to reduce the time to deploy connectivity solutions.
"Automation Appliances are in growing demand by manufacturers, systems integrators, and OEM machine builders due to their ability to provide data exchange between plant floor devices, controllers and business systems, information that is crucial for manufacturers to optimize productivity", according to Craig Resnick, Research Director, ARC Advisory Group. "Automation Appliances are simple to install and user friendly, only requiring simple configuration to speed up startup times. The new deviceWISE Device Gateway clearly addresses the industry demand for automation appliances, offering a flexible solution coupled with a user friendly interface that is designed to be an optimum channel partner product."
"We are excited to see the wide range of challenging problems which are solved with the deviceWISE Device Gateway in both an elegant and sustainable fashion." said Fred Yentz, president and CEO of ILS Technology. "Not only is this product designed for easy deployment, it is affordably priced with both the customer and system integrator needs in mind."
Along with support for most PLC brands, the Device Gateway provides rapid integration to many specialized assets such as Power Meters, HVAC Systems, RFID Readers, Vision Systems, Torque Drivers, and Force Presses, and can be customized to expand its use to other devices,
To learn more about the new ILS Technology deviceWISETM Device Gateway, please visit: http://www.ilstechnology.com/products/devicewise/devicegateway.
About ILS Technology
ILS Technology, LLC, provides software technology and services that change the way companies share information - within their own operations and their end-to-end supply chain. The company's solutions, including software as a service, enable secure and collaborative connections between intelligent devices in production environments, across enterprises and between businesses. Offering broad applicability in a wide array of industries, ILS Technology's offerings have been field-proven in markets where the protection of intellectual property is crucial and the ability to share information from any point around the world in real time is paramount. Solutions developed by ILS Technology adhere to demanding industry standards and are adaptable to virtually any technology platform regardless of vendor. For more information, visit http://www.ilstechnology.com.
ILS Technology is a wholly owned subsidiary of Park-Ohio Holdings Corp. (http://www.pkoh.com), a leading provider of supply chain logistics services and a manufacturer of highly engineered products for industrial original equipment manufacturers.
PR Marketing Contact
Dave Boulos
ILS Technology
561.982.9898
pr(at)ilstechnology(dot)com
###