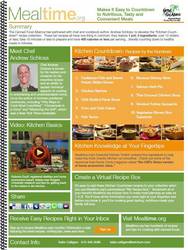 Pittsburg, PA (PRWEB) October 7, 2009
As the economy forces many Americans to toss takeout menus and ditch dinner reservations, many are making their way back into the kitchen in hopes of preparing nutritious, budget-friendly meals. Only problem is, recent research shows that many lack the knowledge of basic kitchen know-how and need help in the kitchen. However, the same research found that moms make positive changes when they receive guidance, so the Canned Food Alliance (CFA) provided moms with the Essential Kitchen Toolkit, which offers easy-to-read guides to planning and preparing healthful meals.
Now, the CFA has partnered with chef and cookbook author, Andrew Schloss so moms can apply the basics of meal preparation, to create easy, inventive meals at home with much lower costs. Not convinced? You do the math:
To answer this call for help in the kitchen these ten new recipes all have one thing in common: they feature 1 pot; 5 ingredients; cost 10 dollars or less; take 15 minutes or less to prepare and have 400 calories or less per serving - literally counting down to healthy meals in minutes.
"Being creative with the variety of canned foods available today is what makes these recipes unique. Without canned food, it wouldn't be possible to make these flavorful meals this quickly and at this cost," said Schloss. "By simply pairing ingredients, such as canned, diced green chilies to add flavor to a flank steak or adding a can of southwestern-style corn to any stew, I was able to create nutritious meals that taste great for under $10."
Now live on http://www.Mealtime.org, the "Kitchen Countdown" recipe collection offers nutrition, convenience and great taste all in one - and includes the following dishes for your serving pleasure:

Caribbean Fish and Sweet Potato Skillet Dinner
Chicken Nachos
Chili Stuffed Flank Steak
Corn and Crab Cakes
Fish Tacos
Mexican Shrimp Stew
Salmon Herb Pie
Smoked Turkey Gazpacho
Thai Coconut Chicken Soup
Vegetarian Brown Rice Casserole
What Sparked Us to Get Cooking?
In early 2009, a Rutgers University study - commissioned by the Canned Food Alliance and published in the Forum for Family and Consumer Sciences journal - revealed that although moms have good intentions, they want and need a better grasp of kitchen basics. This lack of basic kitchen knowledge is ultimately hindering them from preparing nutritious, great-tasting family meals. However, when given a roadmap for preparing convenient, nutritious meals, the research also showed moms made positive changes in their kitchens.
Recognizing that moms make positive changes when they receive advice on how to prepare and serve easy, quick and healthful meals, the Canned Food Alliance developed the Essential Kitchen Toolkit as an educational resource. The Toolkit, which was modeled after the successful action plans used in the Rutgers research, offers easy-to-read guides to planning and preparing healthful meals, navigating the grocery store and organizing the kitchen, as well as a kitchen glossary, and food and kitchen safety tips.
"We learned through the Rutgers research that moms needed help, so we gave them the tools to get them started," said Rich Tavoletti, executive director for the Canned Food Alliance. "So now, we've taken it a step further by offering the "Kitchen Countdown" recipe collection as an easy way for moms to apply those tools to help them be creative when it comes to serving flavorful and wholesome meals for their families."
To find out more, log on to http://www.mealtime.org to find the "Kitchen Countdown" recipe collection, the Essential Kitchen Toolkit, more information on how to cook with canned foods and hundreds of other healthful and easy-to-prepare recipes.
About the Canned Food Alliance:
The Canned Food Alliance is a partnership of the American Iron and Steel Institute's Steel Packaging Council, the Can Manufacturers Institute, select food processors and affiliate members. The primary mission of the CFA is to drive increased consumption of canned foods by enhancing the perception of their numerous benefits. For hundreds of mealtime solutions, visit http://www.mealtime.org.
Resources

Canned Food Alliance Position Paper - Home Economics to Family and Consumer Sciences: Reinvented for Today's Consumer
Essential Kitchen Toolkit
Rutgers University Research

Rutgers Research Finds Moms Need Guidance on Kitchen Basics
Rutgers Study Sheds Light on the State of the American Pantry
Rutgers Study Segments Moms Into Four Unique Groups with Distinct Nutritional Profiles
To view the full multimedia news release, please visit http://www.mealtime.org/kitchencountdown/.
# # #