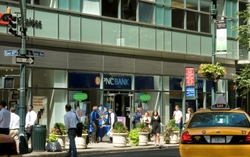 PNC is committed to ongoing investments in our business. Now, with our presence in New York established, we are further positioned to meet the needs of clients living and working in the metropolitan area.
New York, NY (PRWEB) October 6, 2009
PNC Bank, a member of The PNC Financial Services Group, Inc. (NYSE: PNC) announced today the opening of its first branch in New York City. Located at 340 Madison Ave., PNC's first Manhattan branch is designed based on U.S. Green Building Council standards to support a diverse client base, including the New Jersey commuter population and business banking clients with offices in both states.
"The opening of our first New York City branch provides greater convenience for our growing customer base," said Neil F. Hall, executive vice president, retail banking, PNC. "PNC is committed to ongoing investments in our business. Now, with our presence in New York established, we are further positioned to meet the needs of clients living and working in the metropolitan area."
The focus on establishing a branch presence in the city also provided an opportunity to centralize existing operations in New York. Located just a few floors above the Madison Ave. branch are employees representing real estate finance, capital markets, business credit and Global Investment Servicing.
The Madison Avenue Green Branch® location was constructed to earn U.S. Green Building Council (USGBC) LEED-CI certification, recognizing high-performance green interiors that are healthy, productive places to work; less costly to operate and maintain and have a reduced environment footprint.
In 2002, PNC became the first U.S. bank to design and build environmentally friendly LEED™ certified bank branches in the United States. It is the only bank permitted to use the unique term Green Branch® based on the registered trademark granted by the U.S. Patent & Trademark Office. To date, PNC has more newly constructed LEED-certified green buildings (66) than any company in the world.
At Your Service
Leading the team of banking professionals at the Madison Ave. location are Branch Manager Marc Ravage and Regional Manager James Kim. Joining them is a team that includes Assistant Branch Managers Rosa Quinones and Leo Maniotes, and Business Banker Christopher Mania.
Combined, they offer 80 years of industry experience to area and provide complete financial services, including a wide range of checking accounts; loans and mortgages; investment services; insurance; and small business banking solutions.
With the acquisition of National City Corporation, PNC Bank's network has grown to more than 2,600 branch locations and 4,600 ATMs to serve its customers. The 340 Madison Ave. branch includes the following features and amenities:
Convenient Hours: Open Monday through Friday from 7 a.m. to 7 p.m., plus a 24-hour ATM and an Electronic Business Center (EBC) to service retail merchants with currency exchange and deposit capabilities 24-hours a day are also available.
Customer Service: As customers enter the branch, a PNC representative can expeditiously handle many needs or quickly direct the customer.
Advanced Technology: The Internet Café provides two computers with web access to conduct PNC online banking. LCD TV screens display business-related news and information.
Business Banking Center: Small business owners and entrepreneurs can meet with a specialist to discuss business and banking needs.
With its extensive branch and ATM network, phone and online banking access, PNC provides customers with convenient access to their accounts and financial services around the clock.
Environmentally Friendly Features
A PNC Green Branch® location is environmentally friendly because:

Recycling: More than 50 percent of materials used in a PNC Green Branch® location is locally manufactured or made from recycled or environmentally-friendly materials, including flooring, wall covering and furniture fabric.
Interior: Cabinetry is made with non-ureaformaldehye substrates, entryways and interior carpet tiles are made from 72% recycled material. This material is 100% recyclable back into carpet at the end of its lifecycle. Hard floor surfaces are made from recycled rubber.
Energy Efficient: Energy usage is reduced by nearly 35 percent or more compared to a traditional branch and water usage is reduced by nearly 4,000 gallons a year due to high-efficiency systems and insulation.
PNC Bank is a member of the PNC Financial Services Group, Inc. (http://www.pnc.com). PNC is one of the nation's largest diversified financial services organizations providing retail and business banking; residential mortgage banking; specialized services for corporations and government entities, including corporate banking, real estate finance and asset-based lending; wealth management; asset management and global fund services.
###