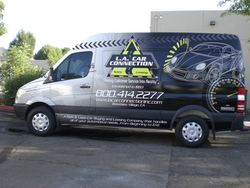 We don't have customers, we have life long friends
Westlake Village, CA (PRWEB) October 6, 2009
On September 15, 2009 L.A Car Connection. Inc. celebrated 16 years of unparalleled customer service. From Hummers to Hybrids, from Fords to Ferraris, no one has to travel further than a phone call or their driveway to purchase a vehicle from L.A. Car Connection, Inc. As part of the purchase, Eric Brooks and his team, offers a "door to door" delivery service of any vehicle to anywhere.
L.A. Car Connection, Inc. (LACC), established in 1993, is a professional new and used car buying and leasing service located in Westlake Village, California. LACC is known for its stress-free alternative to purchasing or leasing a vehicle and has the ability to offer discount pricing you can't find at your local dealership. Even in today' economy, Eric Brooks and his sales team are eagerly sought after by customers looking to buy or lease, even when leasing has been quoted as "dead" due to cut backs and market trends.
LACC offers customized financing and leasing programs for just about anyone. Over their 16 years of a satisfied clientele and their superb door-to-door customer service, celebrities and auto-enthusiasts continue coming back to LACC over and over again. Brooks and his team are known throughout Southern California and their high-class reputation is quickly spreading to other states including Nevada, Arizona and even to Florida.
Brooks knows that his relationships with banking institutions and car retailers are the reason why LACC has been so successful over the years. Brooks and his team have the connections to find even the "hard to get" vehicles, or any car you desire. The reason Brooks has generations of relationships with his clients? He listens to them and has an uncanny ability to recommend the right choice of vehicle based on the buyer's needs. "We don't have customers, we have life long friends", said Eric Brooks, President of L.A. Car Connection, Inc.
With LACC's stellar reputation over the past 16 years, their clients and now friends, always keep them on speed dial. If someone is interested in purchasing a car, they call L.A.'s best car connection, describe the kind of car they are looking for and then sit back and relax while LACC searches until they find it.
Once the car is found, LACC offers aftermarket upgrades from custom wheels and tires to mobile office equipment with copy and fax machines. Brooks understands the importance of personalized vehicles and works hard to deliver a one-of-a-kind spectacular upgrade that exceeds your expectations.
The ease of car buying is all about the experience, right? Well, then L.A. Car Connection, Inc. is driving in the right direction and if you want, right up to your door. That's what I call "Driving Customer Service into Reality."
Please contact anyone from L.A Car Connection's sales team for more information at:
L.A Car Connection, Inc.
31283 Via Colinas
Westlake Village, CA 91362
P: 818-340-9858
F: 818-340-0050
Web: http://www.lacarconnectioninc.com
###