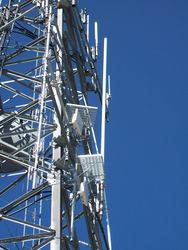 With cellular coverage up in this area being rather spotty, we've had our customers asking for a simple, reliable, voice communication solution
Wenatchee, WA (Vocus) October 6, 2009
The "Hwy 97 Fleettalk" system is the first of its kind in Central Washington, offering a simpler and lower cost alternative to cellular communication for businesses and government agencies with vehicle fleets and mobile workers. Highway 97 is the primary roadway for Central Washington businesses to travel north to British Columbia, or south to the Oregon border. The wide area radio dispatch system allows businesses to stay in communication, and thus be safer and more productive.
The two-way radio system is equipped with four, high-power UHF Motorola repeaters atop Mission Ridge, Chelan Butte, Goat Mountain, and Omak Mountain. The radio system covers the Hwy 97 corridor cities including Ellensburg, Wenatchee, Moses Lake, Chelan, Brewster, and Omak among others. The sites are connected via Motorola point-to-point wireless links, which allows the previously independent systems to communicate with one another, creating the wide area network. The Hwy 97 Fleettalk system was engineered, installed, and owned by Day Wireless Systems, and was built purely due to customer demand.
"With cellular coverage up in this area being rather spotty, we've had our customers asking for a simple, reliable, voice communication solution," said Doug Hall, Manager of the Day Wireless Systems Wenatchee office.
He added, "With State troopers cracking down on the Washington hands free law, drivers are much more comfortable and safer with mobile two-way radios than Bluetooth devices and cellular hands free kits."
In this economy, it's back to basics for Central Washington businesses. Doing more with less is the mantra, and new advancements in radio technology are making the basics a pretty viable option.
Day Wireless Systems is composed of 26 locations throughout the West and has 175 in technical staff and over 300 employees. Since 1969, Day Wireless has been providing professional wireless services for demanding commercial, government, and mission critical public safety systems, and is the largest Motorola dealer in combined business in the USA.
For more information, please visit http://www.daywireless.com
###