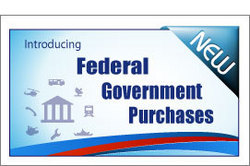 What makes our product unique is that it allows the user to choose how he or she would like to search Federal government
Bethesda, MD (PRWEB) October 20, 2009
Carroll Publishing announces that it has enhanced its GovSearch™ line of online products by including Federal government purchases of products and services. A built-in search function allows users to access government purchasing information by funding office or by product and service line.
Carroll Publishing has added this new extensive content to help users get complete coverage, in one online location, of what, how much, where and with whom the Federal government purchases. The what portion includes over 2,700 categories of products and services including; medical services, railway equipment, construction, and alarm, signal and security systems. The rest covers the dollars outsourced by each civilian department, agency and subagency within the federal government to over 125,000 vendors worldwide.
Seamlessly integrated with its existing quality GovSearch™ service of government contact information and structure, the addition of Federal government purchases makes scant and hard to find information the most accessible anywhere. Users can quickly see purchasing information by department, agency, and office or by category, in a manner exclusive to Carroll Publishing. The data is oriented to government program offices, rather than the contracting offices, so the user is connected the office that has the authority to improve insight and control over resources and related activities.
"What makes our product unique is that it allows the user to choose how he or she would like to search Federal government," explains Bill Wade, President. "Now we've integrated this new information to provide a service that has never before been offered."
Carroll Publishing's Federal government purchasing data is available immediately to current online subscribers. To learn more, free limited access is available as a trial subscription from the Carroll Publishing website at: http://www.carrollpub.com/ft_purchasesmono.asp.
About Carroll Publishing
Carroll Publishing, the nation's leading provider of top quality government contact solutions, maintains the most robust database of government contact information for federal, state, municipal and county government levels, and the defense industry. Unique to its offering are published and dynamic organization charts detailing reporting structures within the government. Products are delivered as a online service, CRM, print directories and organizations charts, and XML, offering on-demand access.
###