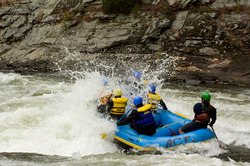 It's going to be a rough course, and a very mental challenge
Oak Hill, WV (Vocus) October 6, 2009
Rick Bayes has spent a whole summer preparing for an invasion of U.S. military personnel in Oak Hill. Like most Americans, he's thrilled to see "the cavalry" roll in. The soldiers, however, are going to sweat when they see what Bayes has waiting for them.
As a guide and organizer for ACE Adventure Resort, Bayes has set the course for this weekend's Wilderness Challenge, an all-military, two-day, multi-sport endurance race.
Fifty-seven teams of men and women — 228 soldiers from the U.S. Army, Navy, Air Force, Marine Corps, Coast Guard and the Pentagon — are expected to cover more than 40 miles of rugged southern West Virginia wilderness and rivers Oct. 9 and 10.
The soldiers, which reportedly include one team of combat-wounded veterans, will paddle both the New and Gauley rivers, mountain bike, hike and run. Bayes said the second day of the race will continuously cover just over 30 miles.
"It's going to be a rough course, and a very mental challenge," said Bayes. "But these are all soldiers, many of whom haven't been home from combat tours that long, and they expect to be put to the test."
The race route begins Friday with an 8-kilometer run descending 700 feet into the Gauley River gorge. The four-person teams will then paddle the Lower Gauley River in whitewater rafts, maneuvering through class V rapids. Saturday features a 10-mile mountain bike course on ACE's nationally recognized trails into the New River Gorge, a two-person inflatable kayak leg down the New River, ending with a 13.8 "hell or high water" hike up out of the gorge to the finish line.
"It's going to be torturous," Bayes said. "We'll see if the Coast Guard can keep their reigning title."
All of the competing soldiers will be honored at an awards banquet following the race, from 6 p.m. to 10 p.m. Saturday at ACE Adventure Resort.
"When we say they're 'America's finest,' I believe it," said Michael Bond, director of the Morale, Wellness and Recreation office based at the Naval Weapons Station in Yorktown, Va., and the military's organizer of the race. "This is a challenging race — and that's the way they want it."
Bond said many of the competitors — all active-duty soldiers — are fresh from theaters of conflict throughout the world or will soon be deployed. Bond said the camaraderie and challenge of the adventure race is inspiring.
Bond added he's happy to introduce soldiers to West Virginia, as well.
"For a lot of the teams, this is the first time they've ever been to West Virginia," he said. "They all say, 'Oh my, I never knew it was so beautiful and there were all these outdoor activities.' I think some of them come back to vacation as a result."
The Southern West Virginia's rafting outfitters have hosted the Wilderness Challenge for nearly a decade. Bayes said that other area outfitters have donated equipment such as inflatable kayaks to help make the event possible and support the troops "in a spirit of camaraderie."
ACE Adventure Resort is West Virginia's largest outdoor outfitter, offering whitewater rafting, kayaking, zipline canopy and ATV tours, mountain biking, rock climbing and hiking from its 1,500-acre property near Oak Hill.
###