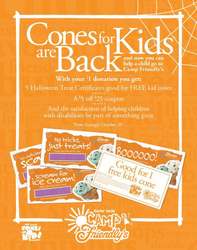 Chicago, IL (Vocus) October 7, 2009
This October, Friendly Ice Cream Corporation is proudly supporting Easter Seals Camp Friendly's through a special Halloween campaign that lets you give out free ice cream as an alternative to traditional Halloween candy.
No Tricks, Just Treats!
From October 5 through October 31, 2009, participating Friendly's Restaurants will offer the new Trick-or-Treat coupons for a donation to Easter Seals Camp Friendly's. For each $1 donation, you get 5 coupons for free Kids Cones plus a coupon for $5 off a $25 purchase at Friendly's. Coupons are redeemable from November 1st- December 31st and the dollars raised will benefit more than 25 Easter Seals Camp Friendly's program locations.
About Friendly Ice Cream Corporation
Friendly Ice Cream Corporation is a vertically integrated restaurant company serving signature sandwiches, entrees and ice cream desserts in a friendly, family environment in more than 500 company and franchised restaurants throughout the Northeast. The company also manufactures ice cream, which is distributed through more than 4,000 supermarkets and other retail locations. With a 74-year operating history, Friendly's enjoys strong brand recognition and is currently revitalizing its restaurants and introducing new products to grow its customer base. To find a Friendly's near you, visit http://www.friendlys.com.
About Easter Seals:
Easter Seals is the leading non-profit provider of services for individuals with autism, developmental disabilities, physical disabilities and other special needs. For nearly 90 years, we have been offering help and hope to children and adults living with disabilities, and to the families who love them. Through therapy, training, education and support services, Easter Seals creates life-changing solutions so that people with disabilities can live, learn, work and play. Support children and adults with disabilities at http://www.easterseals.com.
Media Contacts:
Cindy Metzger, Easter Seals
P: 312.551.7144
cmetzger (at) easterseals.com
http://www.easterseals.com/media
Gillian Begin, Friendly Ice Cream Corporation
P: 413.731.4243
gillian.begin (at) friendlys.com
http://www.friendlys.com
###