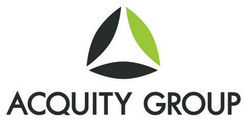 This SaaS PPM Center is a great alternative for organizations looking for a prescriptive solution, without the costs associated with a completely custom implementation
Chicago, IL (PRWEB) October 6, 2009
Acquity Group, a leading services firm focused on digital solutions, announced today that it was selected as the Project and Portfolio Management Center (PPMC) implementation partner for Network Services Company (NSC). The HP solution enables better tracking and focus on business initiatives without the large cost and implementation timeframe often associated with a completely custom configured PPM Center solution.
NSC -- an international organization of independent distributors of janitorial supplies and equipment, foodservice disposables, industrial packaging products and printing materials -- needed to create a standardized set of business processes and to more effectively manage its IT resources to improve overall profitability.
In addition, NSC wanted an enhanced Project Management Office (PMO) framework that would allow for increased visibility into projects and have the capabilities to track work coming out of the PMO and IT department.
"In order to cater to the growing demands of our organization, we needed to better organize the way we delivered on projects," said Paul Roche, CIO of Network Services Company. "We wanted to standardize our core processes in order to gain visibility into IT demands and enhance our infrastructure tracking both internally and for our member distributors. Acquity Group brought a lot of expertise to the table based on other similar projects they've done, so we knew they would make an ideal partner."
Acquity Group executed its patented five-week rapid implementation of the Hewlett-Packard's (HP) Software-as-a-Service (SaaS) solution for PPMC that NSC ultimately selected. The solution consists of configuring multiple modules including Portfolio, Program, Project, Demand, Resource, Financial, Time and Asset Management capabilities.
The SaaS PPM Center fit perfectly within the NSC environment since the company needed the functionality of a robust PPM solution, without a lengthy implementation cycle or large upfront cost. With this system, HP manages the support and infrastructure costs with its SaaS model and Acquity Group blends out-of-the-box functionality with business critical customizations that allows for an implementation timeframe roughly half that of a pure custom solution. Many organizations require a unique solution for their processes, but for NSC, the SaaS PPM Center has been very effective.
As part of the five-week rollout, Acquity Group completed the configuration and hosted a series of workshops geared to educate NSC employees about the new PPM installation. This included a one-week configuration training course, as well as a four-day end-user training.
"This SaaS PPM Center is a great alternative for organizations looking for a prescriptive solution, without the costs associated with a completely custom implementation," said Davin Gallego, Acquity Group Vice President of IT Planning and Transformation Solutions. "This way, you don't have to support all the infrastructure costs, but you still get the robust functionality most organizations need from their PPM solution."
With NSC, the new PPM Center increases the capacity in which it can serve its members and allows them to prioritize initiatives that are most necessary.
"They were really very proactive in requesting a solution to overcome their barrier in comprehensively tracking work," said Gallego. "We often see this as a reactive initiative after companies realize this has been a business problem for quite some time. It's a great sign if the company can recognize potential issues before they turn into full-fledged problems that prevent corporate growth and accountability."
For phase two, Acquity Group will assist NSC with incorporating service management into its current PPMC solution.
About Network Services Company:
Network Services is a member-owned organization of more than 75 best-in-class member-distributors with combined annual revenue over $15 billion. The organization's goals are to utilize national account solutions that reduce the total supply chain costs of its multi-site customers, and to improve the service levels that these national customers provide to their customers. For more information, visit http://www.nsconline.com/.
About HP:
HP focuses on simplifying technology experiences for all of its customers - from individual consumers to the largest businesses. With a portfolio that spans printing, personal computing, software, services and IT infrastructure, HP is among the world's largest IT companies, with revenue totaling $110.4 billion for the four fiscal quarters ended April 30, 2008. More information about HP (NYSE: HPQ) is available at http://www.hp.com/.
About Acquity Group:
Acquity Group delivers award-winning, tailored solutions to elevate brands and businesses by maximizing the digital channel. Acquity Group's innovative strategy, marketing & design, IT planning, and commerce & content services are the cornerstone of effective digital communication for today's leading brands. Acquity Group is headquartered in Chicago and has offices in Irvine, CA; Los Angeles, CA; Overland Park, KS; Scottsdale, AZ; and Dallas, TX. To define a unique perspective for your business, contact Acquity Group at http://www.acquitygroup.com.
###