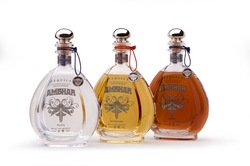 American tastes have matured in the 21st century
Austin, TX (Vocus) October 6, 2009
Tequila Ambhar®, imported by Santo Spirits, Inc. of Austin, Texas, is an artisanal tequila affordably priced. Hand-crafted at a small distillery in Jalisco, Mexico, it is produced according to time-honored traditional methods and has become the second largest spirits category in the U.S.
"American tastes have matured in the 21st century," says Sabino Diaz Galasso, co-founder and CEO of Santo Spirits, Inc., which produces and imports tequila Ambhar®. "All the bright, complex flavors of Mexico and Central and South America have become part of our cultural experience—and along with that, we believe, has come a new finer appreciation for tequila."
"Frankly, I loved the history of it," adds Edward Bradfield, Santo Spirits co-founder and Chief Operating Officer, "tequila didn't always have the best reputation. For a lot of people, it was a party drink and usually horrible hangovers followed. But what we came to realize as we researched tequila's origins was that there's a real nobility to it. It's probably the oldest distilled spirit in the Western Hemisphere, and has a long, baroque, romantic history, full of passion and colorful characters. At its best, it's a just a beautiful drink, something not only highly appreciated but genuinely honored in Mexico as a part of the country's rich, proud heritage. With Ambhar, we want to evoke that legacy, and take tequila back to its roots, back to when it really meant something."
When Bradfield and Galasso, fellow veterans of the spirits business, decided to develop a new, but traditional-style tequila, they immersed themselves in learning about the spirit. They started touring Mexico, visiting producers, doing tastings, educating themselves in a whole new spirit world. "Everywhere we went," says Galasso, who grew up appreciating fine tequila at home in Mexico City, "we kept hearing about one old man who was a legend in this world, a man who made tequila just for his friends and family in the time-honored way. To our surprise, we were able to find him and he was willing to help us. He told us how he made his tequila, and what he believed about it, and we agreed to adopt his recipe and his techniques."
As a result, Ambhar is handcrafted in a small artisanal distillery in Jalisco, the Mexican state where tequila was born. It is created with the finest estate grown top-quality ingredients, including 100 percent blue agave from plants that are harvested based on sugar content and are typically seven to ten years old. Ambhar is bottled in three versions: mellowed Platinum and wood-aged Reposado and Añejo. Each is filled by hand in an iconic glass decanter reminiscent of a fine cognac bottle with polished metal accents and each bottle is hand-numbered, hand-labeled and hand-tied with leather strips holding Ambhar's signature dragonfly medallion.
We are looking for an educated consumer but someone who is wanting a more genuine experience than just a generic cocktail. Someone who is wanting a more flavorful experience backed by thousands of years of experience, legend, and lore. Someone who wants passion and romance in every flavorful sip. It's about a plant, a vision and an experience beyond lesser spirits like vodka, It's about the El Rey (The King) of distilled spirits. And it makes even the most commonplace cocktail a special experience. Mojitos have a flavor and character not seen before, martini's shaken or stirred sparkle and the margarita becomes sublime.
As Austin residents, Galasso and Bradfield consider the Texas capital to be the perfect place to base their business, for several reasons. First, the city is fast becoming America's new spirits capital: In addition to Santo Spirits, the greater Austin area is now home to three boutique vodka producers, a distiller of premium rum, and a maker of orange and lemon liqueurs—with a producer of bourbon about 60 miles to the west. Beyond that, says Galasso, "Austin is a hotbed of creativity, full of young, energetic, well-educated people. It's a place that's very hospitable to new ideas."
Galasso and Bradfield are excited to enter into one of the fast-growing spirit markets. Tequila is now the second largest spirits category in the U.S. and the largest in Mexico in terms of sales "The American palate is much more cultured than it was twenty years ago," states Santos Spirits, Inc. co-founder and Chief Operating Officer Edward Bradfield. "We are trying new food experiences, shopping more at farmer's markets and wanting to know who our food sources are – the whole farm to table approach. In creating Ambhar, our mantra is keep it authentic and it will sell."
The largest wine and spirits distributor in the U.S., Southern Wine & Spirits, agreed to distribute tequila Ambhar after it won approval in a series of blind tastings against competing brands conducted by top Las Vegas bartenders. It is now sold exclusively in Nevada, at such venues as The Mirage, The MGM Grand, Wolfgang Puck's Spago, and Caesar's Palace in Las Vegas. Ambhar will be coming soon to the rest of the country and…Mexico itself. "This is tequila that we're very proud of," adds Galasso, "and tequila that Mexico can be proud of, too."
Tequila Ambhar, imported by Santo Spirits, Inc., of Austin, Texas, is an artisanal ultra-premium tequila affordably priced. Hand-crafted at a small distillery in Jalisco, Mexico, it is produced in Platinum, Reposado, and Añejo bottlings, according to time-honored traditional methods and packaged in an elegant iconic decanter. Visit http://www.ambhar.com.
###