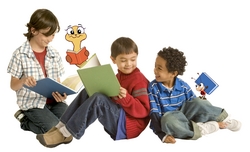 Throughout the continued success of Headsprout's first award-winning program Early Reading, school administrators and educators alike have emphasized the need for their students to have stronger www.headsprout.com [reading comprehension] and critical thinking skills, which sit at the very core of every student's ability to not only read, but to learn more successfully
Seattle, WA (PRWEB) October 6, 2009 –
Headsprout, a Seattle-based education technology company whose mission is to be a major force in eliminating illiteracy, today announces the launch of the first of its kind critical thinking program, Headsprout Reading Comprehension, available first to school districts nationwide starting October 6, 2009. Headsprout Reading Comprehension, an adaptive, online reading comprehension program, teaches students how to comprehend what they read and helps students master critical thinking skills. Students who complete the program are able to demonstrate their comprehension and critical thinking skills on standardized reading tests. Students complete the program after only 25 hours of online instruction. The program will be released for parents to purchase for their children's use at home on January 4th, 2010.
"Throughout the continued success of Headsprout's first award-winning program Early Reading, school administrators and educators alike have emphasized the need for their students to have stronger reading comprehension and critical thinking skills, which sit at the very core of every student's ability to not only read, but to learn more successfully," says Dave Anderson, CEO of Headsprout. "Headsprout's research-based new program does more than just provide practice answering reading comprehension questions; it also provides explicit instruction in reading comprehension strategies that students can apply to read for meaning across all subject areas. Headsprout Reading Comprehension also follows the framework of the Partnership for 21st Century Skills by blending content knowledge, specific skills, expertise and literacy*. "
Headsprout launched Headsprout Early Reading, its first program, in 2001 and school districts nationwide have successfully integrated the supplemental program into their curriculums. The company was founded by a team who has spent the last 30 years improving education for young children. The scientific development process undertaken in designing Headsprout Early Reading tested the program with hundreds of beginning readers, one at a time. If the students did not meet the established learning objectives, the program was revised and re-tested until each student met the objectives. Headsprout Reading Comprehension was similarly scientifically developed and tested with a wide range of learners, from high performing to struggling students.
How Does Reading Comprehension Work?

Teaches strategies to help master factual, inferential, main idea comprehension and vocabulary.
Provides individualized, adaptive instruction for each learner, not just practice reading passages and answering questions
Provides built-in assessment and performance reports for each learner.
Makes learning vocabulary fast and easy with a state-of-the art, proprietary, accelerated vocabulary acquisition system.
Uses research-based instruction that meets No Child Left Behind requirements.
Printed stories, suggested ways of extending what is learned online to the classroom, and detailed individualized automated performance reports accompany the program.
Covers the entire program curriculum in 50 online lessons.
"In reviewing the research, the National Reading Panel (NICHHD, 2000) found that two major instructional factors influence reading comprehension: knowledge of vocabulary and active use of multiple comprehension strategies," says T. V. Joe Layng, PhD, Headsprout's Senior Learning Scientist. "This program, developed using years of learning sciences and our own research, accomplishes both. First, we developed a new way of rapidly and explicitly teaching vocabulary. Second, we developed innovative methods of teaching reasoning strategies for literal, inferential, main idea, and vocabulary in context comprehension. Headsprout Reading Comprehension amounts to, what I consider to be, a scientific breakthrough."
About Headsprout
Headsprout was founded in 1999 by a team who has spent the last 30 years improving education for young children. Headsprout's mission is to be a major force in helping eliminate illiteracy in young children in this country, by making its patented instructional technology, the Sprout Learning Technology, available for children everywhere via Internet-delivered instruction. Headsprout is a privately held company based in Seattle, WA. For more information about Headsprout, please visit http://www.headsprout.com.
*Partnership for 21st Century Skills
Press Contact:
Headsprout:
Victoria Burwell
VP, Marketing
1-800-401-5062 x1600
LP Group:
Cherie Le Penske
206-852-8427
###