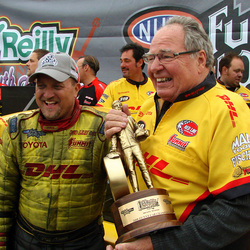 This was an incredible, powerful and emotional victory for the Kalitta / Red Line team
Millington, Tenn. (Vocus) October 6, 2009 –
Jeff Arend, driver of the DHL Toyota Solara Funny Car, picked up his first NHRA Funny Car event victory in 13 years today in final eliminations of the rain-delayed O'Reilly NHRA Mid-South Nationals at Memphis Motorsports Park in Millington, Tenn., just a few miles from the Memphis city limits.
The trip to the winner's circle in Memphis is the first for Arend as a driver for Kalitta Motorsports. He took over the driving duties of the DHL Toyota Solara Funny Car after the tragic death of Scott Kalitta in a racing accident in New Jersey last June.
Arend defeated Tony Pedregon in the final round. Pedregon had problems at the start of the race and was vanquished early, but Arend and the DHL charge were going to be beat as they ran their best elapsed time of the weekend, 4.091 seconds, and the fourth fastest 1,000-ft. speed in NHRA history, 310.41 mph, which is also a career best speed for Arend. Both the 4.091 sec., elapsed time and the speed of 310.41 mph in the final are season bests for the DHL team.
"This is one of the best days of my life," Arend, a 46-year old resident of San Dimas, Calif., said. "To get this win for Scott and Connie (Kalitta, team owner and Scott's father) and everyone at Kalitta Motorsports is amazing. It's surreal and it definitely hasn't all soaked in yet. Our DHL Funny Car performed great today and we knew that we had a good chance of going some rounds, but to get the win was just incredible. Connie is the best owner to work for in drag racing. He's a racer's racer, and I can't explain what this win means to me and everyone on our team who have struggled so hard to get this "Wally" (trophy) for Connie and for Scott."
Final eliminations were postponed until today after rain washed out racing at Memphis Motorsports Park yesterday. Arend defeated Jack Beckman, John Force and Ashley Force Hood in respective rounds en route to his final round showdown with Pedregon. Arend, a native Canadian, is married to Windy, and they have a daughter, Jenna, 9.
"This was an incredible, powerful and emotional victory for the Kalitta / Red Line team," said Cameron Evans, Director of Sales and Marketing for Red Line. "This team has gone through a lot in the past year, and it feels great to see Jeff and Connie in the winner's circle. They worked very hard and the entire Red Line family is proud to be part of the team."
The relationship between Red Line Oil and Kalitta Motorsports began in 2000 when the team was a Red Line customer, using Red Line 70wt Racing Oil to bolster the reliability of its multi-vehicle drag racing team. Red Line began sponsoring the Kalitta race cars in 2001. Both companies are celebrating anniversaries in 2009 – Red Line's 30th and Kalitta Motorsports' 50th.
About Red Line
Celebrating its 30th anniversary, Red Line Synthetic Oil Corp. manufactures more than 100 quality products for the automotive, racing, motorcycle, marine and industrial markets. Its complete line includes a wide variety of motor oils, gear oils, additives, and greases. For more information, please visit http://www.RedLineOil.com or contact Red Line Synthetic Oil Corp., 6100 Egret Court, Benicia, CA 94510.
About Kalitta Motorsports
Based in Ypsilanti, Mich., Kalitta Motorsports is a Top Fuel and Funny Car drag racing team in the NHRA (National Hot Rod Association) Full Throttle Drag Racing Series. In 2009, Kalitta Motorsports is celebrating 50 years of drag racing by team owner and drag racing legend Connie "the Bounty Hunter" Kalitta. Over the past 50 years, Connie, who has been involved in the sport as a driver, tuner, and as an owner, has dedicated unequalled amounts of time and resources to building one of the most successful teams in the history of auto racing. Kalitta Motorsports has won five world championships and over 50 national event titles in five different drag racing sanctioning bodies since it was established by Connie in 1959.
Jeff Arend drives the DHL Toyota Solara Funny Car for the team while Connie's nephew, Doug Kalitta, drives the No. 50 Top Fuel dragster entry. Connie serves as head tuner for both Team Kalitta entries. He is assisted by crew chief Jim Oberhofer and assistant crew chief Troy Fasching on Doug's Top Fueler and by co-crew chiefs Jon Oberhofer and Nick Boninfante on the DHL Funny Car.
# # #