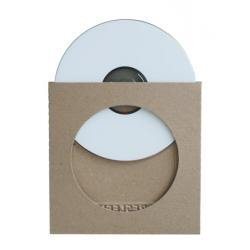 Old Saybrook, CT (PRWEB) October 7, 2009
CD Dimensions, a professional data storage and duplication equipment supplier is proud to introduce its new line of 'Green' disc packaging. This new CD packaging uses post consumer waste paper pulp as the base ingredient for its re manufacture.
The new recycled CD sleeve line includes a paper based product for a CD sleeve envelope with a clear window and white appearance. Closer inspection reveals multiple colored fibers from the post consumer paper waste. Printed in green on the back of the CD sleeve is "Made from 100% recycled post-consumer fiber".
Also released is a line of paperboard disc sleeves and disc holders that use 20pt bending chipboard which contains 100% recycled fibers (85% post-consumer recycled / 15% post-industrial recycled and is FSC Certified). Their appearance is a tan coloration with small flecks of brown.
Unlike many 'Green' products, the CD Dimensions recycled CD sleeves, paperboard disc sleeves and CD holders are all made in the United States. This is an important consideration when considering green or renewable products as pollution standards are much more vigorously enforced in the United States and EU.
Recycled paper products help reduce the demand for harvesting trees and help in keeping landfills better managed with less needless waste. Recycled products also help make a statement about a company's commitment to a better way of living to its customer base.
About CD Dimensions:
Building on over 15 years of data management and storage, CD Dimensions, Inc is a full service provider of data storage and distribution servicing the education, entertainment, government, medical, religious and associated video, audio requirements. As well as archival data storage needs in all industries. CD Dimensions is a strong proponent of renewable resources and energy conservation. Sales and product inquires welcome.
###