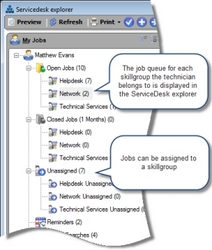 With the release of HelpMaster Pro v9.1, we have taken a first-class helpdesk product and made it even better for a wider range of service desk environments
Canberra, Australia (PRWEB) October 7, 2009
PRD Software announces the release of the next major version of the award-winning hepdesk / service desk solution, HelpMaster Pro v9.1. This new version has several major enhancements to the core functionality, including the ability for helpdesk technicians to belong to mutliple skill-groups within the system. This allows organizations to create more efficient helpdesk and service workflow by partitioning work requests into different service channels, and then designing workflow processes and automation around those channels.
"The improvements regarding technicians and skill-groups is something that our clients have been asking for, and we are very pleased to be able to respond to the HelpMaster community by releasing this new version which meets their needs. HelpMaster has always been a powerful piece of software, but with this new functionality, it really opens the door to some exciting workflow possibilities, not only in this version, but in the scheduled releases to come," says PRD Software managing director, Rod Weir. "With the release of HelpMaster Pro v9.1, we have taken a first-class helpdesk product and made it even better for a wider range of service desk environments"
Additional highlights of the v9.1 release include:

A greatly improved web interface - Many screens withing the web interface has been re-designed for a new look, and use new web components to deliver a rich user experience, that is very similar to the desktop edition of HelpMaster Pro.
A new security model - allows system administrators to configure very specific security permissions for the reading and modification of helpdesk jobs
Improved configuration wizards - the email response management module has a new wizard interface to make creating and editing email profiles faster and easier. Automate the conversion of email requests into helpdesk tickets.
Client merge - a new utility will merge two or more "duplicate" clients into one. Very handy when a busy helpdesk creates more than one version of the same person.
New CSV / Excel export option - all lists within HelpMaster can now be exported directly to Excel for ad-hoc reporting and data analysis.
For further information about what is new + screen shots, see http://www.helpmasterpro.com/products/whats-new-for-helpmaster-9.1.aspx.
This release further demonstrates PRD Software's focus on delivering advanced, practical helpdesk functionality, at an affordable price for both small and mid-sized organizations. HelpMaster Pro allows not only IT service organizations, but all businesses who are looking to deliver outstanding client support a solution that has been designed from the ground-up to provide out-of-the box service best practice along with ITIL aligned functionality.
About PRD Software
PRD Software (http://www.helpmasterpro.com) is the developer of HelpMaster Pro - an integrated management software solution for IT and support professionals working in the helpdesk and service management industry. HelpMaster Pro is developed using the latest Microsoft .NET technology and is availabe in both a Windows and Web interface. Integrated modules include Active Directory, Incident Management, Problem Management, Email Response Management, Knowledge base, SLA / escalation module, Assets register and more. HelpMaster Pro is currently being used around the world in a wide range of industries including, finance, education, business, medical, and hospitality, local government and more.
Headquarterd in the Australian capital, Canberra, PRD Software has delivered helpdesk and service desk solutions since 1996. We are passionate about creating the best service desk software and providing the professional support and services to our clients around the world.
Please visit helpdesk software for further information.
###