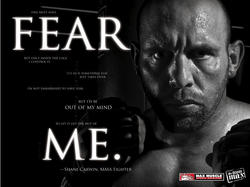 This fight, and everything that surrounds it, is being billed as potentially the biggest pay-per-view event in UFC history.
Los Angeles, CA (PRWEB) October 6, 2009
Max Muscle Sports Nutrition and the UFC 106 heavyweight title contender Shane Carwin join forces to award one lucky customer tickets for two to Las Vegas to see Shane Carwin challenge Brock Lesnar for the UFC Heavyweight crown. To make this experience one to remember we have assembled a one of a kind prize package which includes interaction with Shane Carwin himself during this momentous occasion.
"This fight, and everything that surrounds it, is being billed as potentially the biggest pay-per-view event in UFC history." said Sean Greene, President of Max Muscle Sports Nutrition. "Shane has been a long time Max Muscle athlete, and we wanted one of our lucky customers to experience one of his greatest accomplishments live in person.
UFC 106 will be held at the Mandalay Bay Resort in Las Vegas Nevada on November 21st 2009. Tickets for this event are in high demand but Max Muscle has put a prize package together that will take you inside the inner circle of the Main Event.
The winner will be chosen randomly from all the customers of Max Muscle Sports Nutrition stores across the country who purchase any Max Muscle product from any store between now and November 5th, and will receive the following:

Two Premium Seat Tickets to UFC 106
Two Roundtrip Tickets to Las Vegas
One Night's Hotel Accommodations
Two VIP Tickets to the "Shane Carwin After Party" at Mandalay Bay's 'Rum Jungle'
Autographed 8x10 of Shane Carwin
Autographed "Official" Fight Gloves
Autographed copy of FIGHT! Magazine
2 Team Carwin Exclusive T-Shirt
2 Shane Carwin Signature Shirt
2 o fShane's UFC 106 Walk out tee
Shane Carwin embodies what it takes to be a Max Muscle Athlete. He has worked hard and not taken any short cuts and he is already a Champion to Max Muscle Sports Nutrition.
Max Muscle stores across the country have always catered to serious athletes and now with the popularity of Shane Carwin, legions of Shane Carwin fans and Mixed Martial Arts (MMA) have come to realize Carwin's dedication to nutrition and the result that has had in both his physical appearance as well as his current professional fight record of 11 and 0.
"What people see in Shane Carwin is what they want to see in themselves." said Greene. "They see somebody who has a normal job just like the rest of us, take their passion and truly dedicate them self to it and achieve superhero results. Once they see that, they start to notice the people surrounding themselves have that same dedication to themselves…proper nutrition, proper training…they realize that coupled with passion can yield measurable results."
On October 26th, Carwin was invited to be on "The Jay Leno Show" as a result of his fight record and rise to national prominence as a professional MMA fighter know to fans as "The Engineer".
According to Shane Carwin, "I am in awe of the support from the fans, media and my team. I am constantly being asked how I am preparing, what am I weighing, what does it feel like to be facing big bad Brock Lesnar. Thanks to Max Muscle we are going to bring you all inside my world. You can get exclusive content from me at http://www.maxmuscle.com/shane/ We launched "Fight Fantasy Weekend" in part because of so many inquiries from fans on what its like fighting one of the scariest men on the planet for the sport of it. Please stop on by MaxMuscle.com today for more information about me and my road to the UFC Heavyweight Title."
To enter to win, simply be a customer of any of the 158 Max Muscle Sports Nutrition stores nationwide in the month of October, 2009. Winner will be randomly drawn from all customers' purchases. For every purchase made during the month of October, you'll receive another entry. Enter as often as you'd like! For more information about Max Muscle Sports Nutrition and to see Shane Carwin's "Win A Fight Fantasy Weekend" tribute page complete with videos, training schedule, and the nutritional 'stacks' he provides his body with every day, visit: http://www.MaxMuscle.com
###