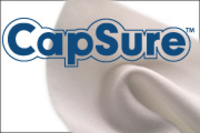 Great Barrington, MA (PRWEB) October 6, 2009
Berkshire Corporation, a manufacturer of contamination control products for cleanroom and critical environments, introduces CapSure™, a patent pending technology that enhances the cleaning performance of critical environment wipers.
The CapSure™ Technology features an innovative process that enables wipers to capture and retain more contaminant particles to provide a more effective wipe and reduce the risk of recontamination. A breakthrough in wiper technology, a clean CapSure™ wiper maintains the environment by releasing 80% fewer airborne particles than other wipers. The wipe captures up to 42 times more surface contaminant particles and will retain up to 93% of these particles.
CapSure™ polyester wipers are designed for use in ISO Class 3-5 (Cleanroom Class 1-100) and are recommended for pharmaceutical, biotech, medical device, laboratory, electronics, semiconductor, and other life science applications.
About Berkshire Corporation
Berkshire is the global leader in the engineering and manufacturing of contamination control products for cleanrooms and critical environments worldwide. Global technical specialists assess specific process needs and bring qualified solutions to the most critical application. For more information, visit the company's website at http://www.berkshire.com.
Contact: Berkshire Corporation
Phone:
1.800.242.7000
1.413.528.2602
Fax:
1.336.446.0156
E-mail: csr(at)berkshire.com
###