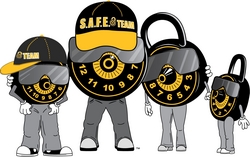 While our counterpart Schools And Families Engaged focuses on starting families as active volunteers in the school system, we have four unique opportunities to engage our schools with their community
Olathe, KS (Vocus) October 6, 2009
The Center for Fathers and Families of Arkansas is proud to announce a national campaign to raise money to fund family involvement programs in schools around the nation. The S.A.F.E. TEAM Community Connection Foundation, or STCCF, will operate as an official project of the Center for Fathers and Families of Arkansas to Support, Advise, Fund and Educate. "While our counterpart Schools And Families Engaged focuses on starting families as active volunteers in the school system, we have four unique opportunities to engage our schools with their community", says STCCF Operational Director, Dan Dunbar, "We want to serve as a resource center to unify schools, families, resource officers, counselors, PTA/PTO, and businesses around the country." Additional information about this project may be found on the STCCF web site.
The national campaign known as "2010 in 2010" has a target goal of raising $1,250,000 between now and the end of 2010. 100 percent of the funds will provide mini-grants to schools who desire to start a S.A.F.E. TEAM school based family involvement program but currently do not have enough money in their budget to begin. The S.A.F.E. TEAM program helps schools learn to attract, retain and manage family volunteers in the school environment. Research demonstrates that family involvement improves security, enhances education and promotes strong character development. Participating schools will receive $600 to pay for a customized web site that automates the volunteer process and provides school administrators a single resource to manage their volunteers' daily schedule as well as special events throughout the year. In addition, schools will receive training and supplies to jump start their program. "I love this program. Research shows that families that are engaged with their students and schools starting at the Elementary level and continuing to the Secondary level tend to have students with better test scores and fewer behavioral incident reports. It makes my job a little bit easier", says Bryan Jaegers, School Resource Officer.
When asked how the grant program got started, Mr. Dunbar replied, "It was motivated by businesses saying they loved what the S.A.F.E. TEAM program does for their community but many of the business owners lacked the manpower to monitor the funds. In addition, school budgets have tightened and administrators are desperately asking for help. This foundation brings a great solution to both parties". At last count, there were over 200 schools from Alaska to Florida who have completed their training and are simply waiting to start their program. Increasing the pressure to hit their goal of 2010 grants is the added announcement that a small group of donors have offered to match every grant raised in 2010 in the following year up to $1.5 Million. Both the Center for Fathers and Families of Arkansas and the S.A.F.E. TEAM Community Connection Foundation are hoping to raise $400,000 of the overall goal by the end of 2009 to allow 650 or more schools to start their program in the current school year.
Should the organizations reach their 2010 goal and each family member volunteers 1 day during the school year, schools would be the beneficiaries of 1,000,000 volunteers over the course of 15 months. Businesses or individuals interested in helping reach the 2010 goal should visit stccf.org for more information. Information about the S.A.F.E. TEAM school program can be found at thesafeteam.com.
The S.A.F.E. TEAM Community Connection Foundation is a non-profit project of the Center for Fathers and Families of Arkansas dedicated to helping meet the needs of schools, families and communities in four critical areas. Our desire is to support schools throughout the nation by working with community and national organizations to create a national support network. We will advise parent and family involvement groups on ways to improve their communication skills, fundraising philosophies and their relationships with community organizations and businesses. We seek to fund S.A.F.E. TEAM program grants to assist those schools needing financial aid to begin engaging their families as active volunteers. We educate businesses on their role in the education system and encourage them to expand their voluntarism, encourage employee volunteerism and invest in their future workforce by directly donating to sponsor school based family involvement programs in their operational areas.
Center for Fathers and Families of Arkansas
4100 Linwood Dr.
Paragould, AR 72450
For Interview Contact: Robert Strouss, 870-236-1DAD, 9am-3pm Central M-F
S.A.F.E. TEAM Community Connection Foundation
16120 S Matt Ct.
Olathe, KS 66062
Follow STCCF on Twitter: @stccf
Become a STCCF Fan on Facebook
For Interview Contact: Dan Dunbar, 913-712-9332, 9am-5pm Central M-F
Schools And Families Engaged
PO Box 937
Tontitown, AR 72770
Follow S.A.F.E. TEAM on Twitter: @safeteam
Become a S.A.F.E. TEAM Fan on Facebook
For Interview Contact: Scott Huse, 630-427-4993 ext. 3, 8:30am-3:30pm Central M-F
###