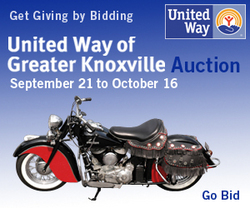 Knoxville, TN (PRWEB) October 12, 2009
United Way of Greater Knoxville is inviting you to support this year's campaign in a new way, by bidding on one of 150+ items available in its first online auction. Bids for most items are open until 4 p.m. ET on Friday, October 16, and all monies raised by these auction items will go towards meeting the 2009 community fundraising goal of $11.8 million dollars.
From signed athletic memorabilia and signed music memorabilia to items seen on TV, a full range of items is up for auction. Bidding is easy. Just visit http://www.unitedwayknox.org and click on the auction banner.
Some category and item highlights include:

As Seen on TV - partially restored 1948 Indian Chief Motorcycle which was featured on DIY Network's Classic Rides, cookbook autographed by food Network's Paula Deen and DVD-set autographed by Food Network's Alton Brown.
Sports Collectibles -piece of Dale Earnhardt Jr.'s race-worn fire suit with accompanying limited edition print, Baseball Hall of Famer Ryne Sandberg signed Tennessee Smokies shirt, and University of Tennessee Lady Vols' coach Pat Summitt autographed limited edition Robert A. Tino print.
Music -Guitars signed by Billy Ray Cyrus, Kellie Pickler, Sara Evans and Dolly Parton, Dolly Parton autographed rocking chair and Bonnaroo 2010 tickets.
All of these items plus many, many more may be viewed and bid upon by visiting http://www.unitedwayknox.org. All bids must be in by 4 p.m. ET on Friday, October 16. Some items require the buyer to arrange for delivery or pick up, and some have date restrictions.
About United Way of Greater Knoxville:
United Way of Greater Knoxville is a local, independent organization dedicated to building a stronger community by helping people become self-sufficient. In partnership with nonprofit agencies, local business, community leaders and ordinary citizens, United Way tackles critical issues like health, education and financial stability. By working together, we provide a network of services addressing Knoxville's most basic needs while working toward lasting change.
###