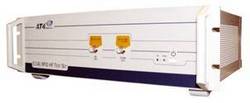 The global interoperability of NFC solutions depends on demonstrable compliance with the NFC Forum specifications
Salters, SC (PRWEB) October 7, 2009
AT4 wireless, a wireless testing services and test solutions company, announced today that it has been selected to partner with the NFC Forum, a non-profit industry association that advances the use of Near Field Communication (NFC) technology, in the development of equipment for compliance testing to the NFC Forum Digital Protocol specifications.
AT4 wireless has actively participated in the NFC Forum's Compliance and Testing related activities since the Forum was formed in 2004, and has developed an RFID HF test instrument capable of supporting RF and Protocol testing for the ISO 14443 and ISO 18092 standards, which represent the base technologies used by the NFC Forum in its core specifications.
Based on this collaboration arrangement, AT4 wireless has started implementing the NFC Forum-defined Digital Protocol Test Cases on its tool in order to be formally validated as soon as possible. This will complete one of the important steps in NFC Forum's roadmap for first wave certification of NFC devices which is scheduled for late 2010.
This system enhances the current AT4 wireless RFID test systems portfolio, which currently covers test solutions for RFID UHF band technologies like EPC Gen-1, EPC Gen-2, ISO 18000-6 and Mobile RFID standards, and RFID HF technologies such as ISO 14443, ISO 18092, ISO 18000-3 and ISO 15693.
"We are very proud to obtain this important recognition from the NFC Forum after several years of joint cooperation and contribution to the compliance and testing activities of the Forum," commented Angel Romero, Short Range Wireless Product Manager at AT4 wireless. "We look forward to returning NFC Forum's trust in our company by providing them with the best quality test setup required to allow for conformance testing and certification of NFC Forum devices."
"The global interoperability of NFC solutions depends on demonstrable compliance with the NFC Forum specifications," said Paula Berger, NFC Forum Executive Director. "Working with AT4 wireless will enable us to develop the reliable test tools needed to make that happen."
About AT4 wireless
AT4 wireless is a global supplier of Testing Solutions for wireless technologies recognized as the most complete Wireless Certification & Testing Laboratory in the world and a leading manufacturer of cutting-edge test & measurement equipment for telecommunication technologies.
With the largest coverage in different technologies (GSM/GPRS/EDGE, WCDMA, HSPA, LTE, WiMAX™, Bluetooth®, Wi-Fi®, RFID, NFC and EPC) and a portfolio that ranges from conformance, regulatory and interoperability testing to Worldwide Compliance Services AT4 wireless' Test Laboratory offers a one-stop-shop approach for the certification of telecommunication devices. With our world-class self-developed Test Systems MiNT, BITE and RIDER, AT4 wireless meets all certification aspects like R&TTE, FCC, GCF, PTCRB, WiMAX Forum®, Wi-Fi Alliance and Bluetooth SIG.
AT4 wireless was founded in 1991, has more than 370 employees and operates from it's headquarter in Malaga/Spain and its subsidiaries in USA and Taiwan
For more information, visit http://www.at4wireless.com
###