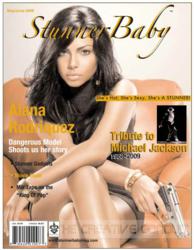 It is important to provide a media communications platform to change the current perception of urban models. For too long our beautiful and talented women have had the fashion doors of opportunity
(PRWEB) October 08, 2009
Chicago, IL (PRWEB) October 8, 2009 -- Stunner Baby Magazine http://www.stunnerbabymag.com is the World's largest online urban fashion and general interest magazine to invade the internet. Since its launch the magazine has produced (9) issues; (15) cover models; written over (170) featured articles and interviewed over (70) beautiful stunner babies worldwide. In (7) short months Stunner Baby Magazine has over 1,800,000 hits and over 50,000 unique visitors to view and study the background of our array of stunner baby models. In changing gears in the devastating advertising slump, the online E-Magazine is a refreshing alternative for readers and advertisers.
Stunner Baby Magazine provides cutting edge marketing and focus of beautiful urban models worldwide. The magazine is the brainchild of Claude Julian (CEO/Editor-in-Chief). This dedicated former professional runway star, print model, fashion editor, music video model expert, actor and professional makeup artist http://www.modelmayhem.com/crashadj provides 25 years of experience in the world of fashion and beauty.
Claude Julian states ...
"It is important to provide a media communications platform to change the current perception of urban models. For too long our beautiful and talented women have had the fashion doors of opportunity "slammed" in their faces. No longer can the fashion industry ignore these curvy, shapely, exotic and intelligent models that don't fit the under 5' 10" and size 2 syndrome of skinny success. Hip hop music and their innovative music videos allow these urban beauties the opportunity to catapult their name-to-fame.
Stunner Baby Magazine proactively uncovers interesting stories of established and up-and-comers in the urban modeling industry. The urban industry allows models of color the opportunity to gain recognition through music videos; gain experience; fan base; fame, and wealth. Many of Stunner's Babies have taken their careers to the next level of the fame game such as Esther Baxter, Buffie the Body, Melyssa Ford, Inga Newson, The Glenn Twins, Erika Mayshawn, Ms. Sharmaine, Kami 2 Hot, Summer Walker, Alana Rodriguez, Sahara Lexus Simone, Vanna Black, Naomi Knoxxx, Natasha Farrow, Krystal Klear, Ms. Aimee, Mz. Bubbles, Mayra Veronica, Maliah, Bria Myles, Ashalee Abar, Candice Pillay, Pam Rodriguez, Hoopz, Collins Twins, Guzman Twins, Ladie Jae, Angell Conwell, Stacy Dash, Megan Good and Lisa Raye to name a few.
Stunner Baby Magazine features some of the hottest stunner babies in Urban America and Urban International. SBM is the official magazine of http://www.videostunners.com (formerly http://www.videovixens.net) which is "The World's Largest Urban Music Video Model Directory." The magazine completed the "Stunner of the Year" Cover Model tour where it toured Richmond, Virginia, Charlotte, North Carolina, and Miami, Florida. The "Stunner of the Year" winner was J. Diamond (Miami, Fl) who won $2,000 USA and appeared on the cover of Stunner Baby Magazine issue. The tour was sponsored by Hurricane High Gravity Lager (Anheuser Busch InBev).
Stunner Baby Magazine revealed an exclusive interview with R&B recording artist Bobby V. aka Bobby Valentino. The cover models for the Bobby V. experience are Ty Taylor, So Hood, Ms. Sharmaine, Sahara Lexus Simone, and Andrea Marie. RealityCrack.com puts the real back in reality one dirty juicy blog at a time http://www.realitycrack.com (Hollywood) dished a "little dirty gossip" on Bobby V. and So Hood at the Stunner Baby Magazine photo shoot.
Stunner Baby Magazine is ready to unveil an emotional tribute to the King of Pop "Michael Jackson!" Alana Rodriguez is our alluring cover model with her dangerous beauty shoots the 4-1-1. The super hot cover image was captured by New York photographer James George of The Creative Conduit.
Stunner Baby Magazine launched its special Double Hotness issue covering the expanding world of Stunner Babies. Natasha Nafrini aka Natasha Farrow gives her uncensored lowdown on modeling. Our features cover sexy up-and-comers to the urban game such as the sultry Ashley Salazar brings her fire; Rosa Acosta turns up the heat on her dating Soulja Boy; Chastity Nichole exotic beauty commands your attention and the radiant Trina Nicole dishes out her swagga in Milwaukee.
Stunner Baby Magazine will launch the Stunner Baby Magazine UK issue. Our cover model is the exotic Mehek Mirza http://www.modelmayhem.com/mehekmirza who gives her unique perspective of life as an urban model in the UK. SBM will go inside (9) London beauties to get a life and career perspective.
1. Abisola aka Sexy Fox
2. Vanessa Sweets
3. Gina Antoine
4. Sexy Shivzy
5. Farina West
6. Sexy Abbey
7. Energy aka Joanne
8. Cherelle Rose
9. Bridget Jasmine
International Beauty Editor, London's own Sasha Taylor "What's Up n London" will provide insightful buzz from London that directly impact the international urban models. SBM is proud to have worked with talented writers such as "Fashionably Late" by Andie Write; Farrow Speaks by Natasha Farrow; Stunner Baby's World; Mr. Movie Dude; What's the Word by Dionn Nicol; 360 Degrees by K. Boogie; World Travel Buzz; Letter from the Editor; Style & Beauty and Sports Quota by Qiana M. Qiana M. is the outstanding website designer that keeps the beautiful stunner baby models illuminating the interactive SBM website.
Urban Models Making a Buzz ...
Ty Taylor aka Ty Shuwon, Ajay Milan, CHI Twins, Shayna Kelly, Nicole Jackson, Misty, Elvina Twins, V. Boston, Teyai Marie, Juicy, Amanda Mandi, Anastasia Garcia, Rodriguez Twins, Asia Lynn, Mizz Ashley, Nadene Goin, Tatu Baby, Benson Twins, Friday Twinz, Dani Lugosi, Janelle Priego, Ethnic Beauty, Dymond, Symmone, Daisi Pollard, Kelly Renee, Mz. Niagara Falls, Zimajah, Mz. April, Natasha Salimi, Toi Rhrara, Johnetta, Mz. Redbone and Diva Jae.
Stunner Baby Magazine has a promotional logo model who is an actual animated character created by our VP Creative Services - Ken Stewart. In developing the logo concept our Stunner Baby staff discovered spokesmodel and columnist, Mz. Stunner Baby aka Sahara Lexus Simone.
Advertisers please don't hesitate to be a part of history in the annual Commemorative Magazine issue of Stunner Baby Magazine Special 8 Cover volume (150-200) pages (March 2010) issue.
# # #