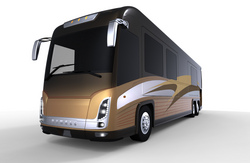 We are already producing to sold orders.
Miami, Oklahoma (PRWEB) October 8, 2009
Newell Coach Corporation, the world's leading manufacturer of ultra-luxury custom motorhomes, announced that they have begun production of their new, 2011 models, with retail deliveries scheduled for the first of the year. The new models feature updated styling by top automotive designer, Jason Hill, founder of the cutting-edge design firm, Eleven.
"The 2011 models include enhanced styling and increased power, as well as the state-of-the-art look, ride, and handling for which Newell is known," said Newell Director of Engineering, Boyd Vanover.
"The coach front and rear feature fresh new details," Vanover continued. "For example, the high-performance, xenon gas-discharge headlights are placed behind clear acrylic lenses, bordered by distinctive, 'string-of-pearls' LED daytime running lights. And the front fascia trim now runs the full width of the coach, integrating with the outboard headlight assemblies. The finish of the fascia has been upgraded to an attractive, automotive-quality, hard chrome."
"Customer response to the new models has been outstanding," Vanover added. "We are already producing to sold orders."
About Eleven
Founded by Jason Hill in 2003, Eleven LLC is an eco-friendly design studio that focuses on design-driven vehicle design, design consulting and product consultation. Clients include international auto manufacturers and major after-market accessory suppliers. Current projects include the T3 motion vehicle, a zero-emissions, battery-powered motorcycle; and the ground-breaking Aptera Tpy 1 vehicle. Eleven LLC is located in Long Beach, California. For more information, visit: http://www.designby11.com/#.
About Newell Coach
Newell Coach Corporation is the leading designer and manufacturer of custom luxury motor coaches. Newell coaches feature state-of-the-art design and materials, custom furnishings and appliances, and full-time customer service and support. Located in Miami, OK, Newell has been manufacturing custom coaches since 1967. For more information, call: 1-888-363-9355, or visit: http://www.newellcoach.com.
# # #