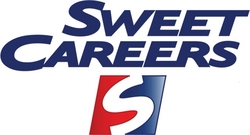 (PRWEB) October 7, 2009
Sweet Careers.com (http://www.sweetcareers.com) is a newly launched free job board which offers employers and job seekers a faster, easier and more effective way to post and search jobs regionally, nationally, or internationally. Sweet Careers powers over 184 countries and cities worldwide - and we're still growing!
Whether you operate a small business or a large enterprise, Sweet Careers has the solutions to meet your company's recruitment challenges. Our simple to use, one-step posting allows you to spend less time posting jobs and more time receiving and evaluating qualified candidates.
"With the economic challenges that everyone has faced, companies are looking for alternatives in order to get the most out of their recruitment budgets. By providing free online job posting, there is no need for employers to spend money to find the perfect candidate".
Our employer profile allows companies the ability to brand your corporation as an attractive employer, by just filling out information such as: Why us?, Corporate Culture, Life Inside & Outside work allows you to tell potential job seekers why they should apply, what your company has to offer them, and how their joining your enterprise could be mutually beneficial.
Job seekers can utilize our quick sign up, opt in or out of resume uploading and take advantage of the ability to share through social media.
The site also boasts a blog that includes valuable tools such as "Ask the Head Hunter" column, University Features, career articles, and resume and cover letter templates.
Get started today and maximize your potential. Visit: http://www.sweetcareers.com
About Sweet Careers:
Sweet Careers was created to offer a solution which would enable employers to effectively post jobs online without spending hundreds of dollars per listing. We understand that you want the right people to power your business, and that you're not just looking for a job, but a Sweet Career!
Major cities for job posting include: Vancouver, Toronto, Calgary, Edmonton, Regina, London UK, Manila, Hong Kong, Chicago, Los Angeles, New York, Phoenix, Houston, Philadelphia, Detroit, Jacksonville, Melbourne and Sydney Australia, Jamaica, Bahamas and many more.
###