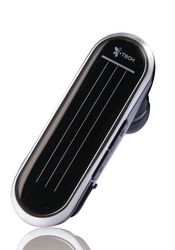 SolarVoice stays charged as long as it's exposed to sunlight, so busy people have two less things to worry about: keeping their Bluetooth headset charged and reducing their carbon footprint.
Ontario, Calif. (PRWEB) October 7, 2009
i.Tech Dynamic today introduced its solar-powered SolarVoice 908 to the U.S. market. The SolarVoice 908 is a Bluetooth headset that lets users go green while maintaining their productivity and listening to their favorite tunes.
"Our new SolarVoice 908 taps into the power of the sun to charge, making it perfect for consumers who are trying to be environmentally conscious," said Chris Parsons, vice president, sales and marketing, Sino Regent Services, i.Tech's exclusive distributor in the Americas. "SolarVoice stays charged as long as it's exposed to sunlight, so busy people have two less things to worry about: keeping their Bluetooth headset charged and reducing their carbon footprint."
First Solar Headset to Feature Noise Reduction for Clear Calls
Sleek and stylish, the eco-friendly SolarVoice 908 is the first solar-powered Bluetooth headset with background noise reduction for clear phone calls. The unit employs an advanced suite of digital signal processing software to reduce background noise and distortion. The noise reduction technology improves the sound quality of a signal by adaptively removing noise or hiding it from the listener through low-latency, low distortion, multi-band signal processing and psycho-acoustic masking.
A2DP Bluetooth Profile for Streaming Multimedia Audio
SolarVoice features Bluetooth's Advanced Audio Distribution Profile, or A2DP, which lets users stream songs from Bluetooth mobile phones or music devices with A2DP. The headset also lets users hear audio content from videos they're watching on A2DP-compatible multimedia devices and smartphones, such as the iPhone 3GS and the second generation iPod touch (3.0 software required), or from YouTube and other Web sites (Wi-Fi connection required).
Innovative Ear Buds Eliminate Deafness and Fatigue
SolarVoice's innovative ear buds are specifically designed to allow air to reach the ear canal, which eliminates the plugged-ear sensation and fatigue users may experience during extended use of other ear buds. Designed for superb comfort and fit, SolarVoice's ear buds come in four sizes and hold the headset firmly in place, so an ear hook is not necessary. (For those who prefer to use one, an ear hook comes standard with the headset.)
Many Other User-Friendly Features
A flashing green light indicates when the unit is solar charging, and an elegant headset cradle designed for desktop and in-car use perfectly positions SolarVoice to absorb maximum sunlight.
SolarVoice gives users up to five hours of talk time, infinite standby time while in optimum sunlight and up to 140 hours of standby time without sunlight.
The unit also has an internal lithium-ion battery, so it can be charged via A/C power and a computer USB port (travel adapter and cable included). SolarVoice fully charges in three hours via A/C power or USB connection. (USB connection should be used when SolarVoice is being charged for the first time, when the device is totally drained or when it has been idle for three months or more.)
Headset functions include voice dialing (mobile phone dependent), last-number redial, call reject, call transfer (from headset to mobile phone and vice-versa), auto re-link (which re-establishes the Bluetooth connection when the user returns to within range of a device), call waiting and call swap.
Other features and specifications include:
--Bluetooth Version 2.1 + EDR Class 2
--Headset and hands-free Bluetooth profiles
--Multipoint technology, which lets the headset connect simultaneously to two cell phones
--Charging status indicators
--Volume adjust, call transfer and call reject button
--Range: up to 33 feet
--Dimensions: 2.15 (L) x .68 (W) x .49 (H) inches
--Weight: .42 ounces
For a complete list of features and specifications, please visit i.techdynamic.com.
Pricing and Availability
Available now at amazon.com, SolarVoice 908 has a suggested retail price of $74.99. It also is available at Skymall.com, by calling SkyMall 800-759-6255, and by calling SinoRegent at 877-274-9367. It will be shipping soon to retail stores and additional internet retailers.
Units for media evaluation are available upon request. Please contact glynis.gibson (at) gibsoncommunications (dot) com.
About i.Tech Dynamic:
i.Tech Dynamic Ltd. specializes in the design, marketing and sales of mobile telecommunications accessories. Since its founding in 2002, the company has established a reputation for developing products with sleek designs and good value. Dedicated to innovation and supported with advanced manufacturing and research facilities, i.Tech delivers electronics and digital products that are highly lauded by users worldwide.
The company is a wholly owned subsidiary of Hutchison Harbour Ring Limited (HKSE: 715), which is a subsidiary of Hutchison Whampoa Ltd., and is based in Hong Kong. Ontario, Calif.-based Sino Regent Services handles U.S. sales and marketing and is i.Tech's exclusive distributor in the Americas. For more information, visit http://www.itechdynamic.com.
SolarVoice is a trademark of i.Tech Dynamic Ltd. Other names may be trademarks and/or registered trademarks.
###