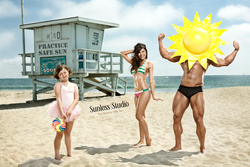 We wanted to do something within the community to show that we care about keeping our clients healthy. Whether it's protecting clients from melanoma cancer or helping to find a cure for breast cancer, we wanted to make a difference
Beverly Hills, CA (PRWEB) October 7, 2009
Los Angeles spray tan studio Sunless Studio is hosting a celebrity breast cancer awareness event "Breast CANswer" on Tuesday, October 13th to raise money for My Vision from 7:00pm-10:00pm open to the public.
My Vision supports breast cancer awareness by providing fertility preservation to those affected by breast cancer, allowing them to save their eggs so after remission they can still have a family.
One of the goals of Sunless Studio is to preserve the health of their clients' skin, this benefit will work hand-in-hand with their cause. "We wanted to do something within the community to show that we care about keeping our clients healthy. Whether it's protecting clients from melanoma cancer or helping to find a cure for breast cancer, we wanted to make a difference," said Kristen Roach, manager.
Spa services for the night include everything from hair stylings, manicures and pedicures, waxing, make-up applications, lash extensions, airbrush tanning and facials. In exchange for these free services, Sunless Studio is seeking donations at the door and in lieu of tips for the services.
Silent auction items include a trip to Puerto Vallarta, three months worth of free airbrush tanning from Sunless Studio, a $700 lash extension package from LuxLash, a cut from celebrity hair stylist Kevin Josephson and more.
Food and cocktails will be served throughout the night. Neuro will be at the event passing out their healthy drinks while Jett Vodka will be serving beverages and cocktails.
Jett Vodka, Kevin Josephson Salon, Goodie Bag Events, MakeYouFlawless.com and LuxLash in addition to Sunless Studio are sponsors for the event.
Breast CANswer will take place on October 13th, 2009 from 7:00 - 10:00 p.m. at the Kevin Josephson Salon in Beverly Hills, located at 9640 S. Santa Monica Boulevard, 90210.
About Sunless Studio:
Founded in 2008, Sunless Studio was started in order to bring realistic alternatives to UV-Tanning to the public. Sunless Studio's unique and proprietary process produces an absolutely realistic spray tan without the dangers of UV-Tanning. The company has been featured on E! and is in the process of opening new locations throughout California, Nevada, and Oregon.
Media Contact:
Kristen Roach
310.467.2291
http://www.sunlessstudio.com
# # #