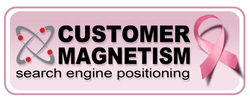 Every day is a gift to my mom
Hampton Roads, Va. (PRWEB) October 7, 2009
October is breast cancer awareness month. Customer Magnetism, a Virginia Beach Internet marketing firm, announced today that it will donate 5% of funds from all new contracts signed and received during this month toward breast cancer research and support for the Susan G. Komen for the Cure Tidewater Affiliate.
With 1.3 million men and women diagnosed with breast cancer annually and no known cause or cure existing, research and support for cancer victims is critical. One in eight women will be diagnosed with breast cancer in their lifetime.
Many of the Internet marketing firm's employees have had their lives touched by cancer and support the company's efforts.
"My friend Susan was in her twenties when she died of breast cancer," said CEO and company founder Kurt Noer. "Fortunately, with early detection and improved education, many are winning this battle."
The struggle with breast cancer has also hit close to home for employee Nicole Newsome, whose mother is fighting the battle daily. Andrea Edwards was diagnosed in 1999 and had a mastectomy. After a year of chemotherapy and radiation, Edwards was cancer-free for more than six years. Three years ago, the cancer returned, spreading to her sternum, and is now inoperable.
"Every day is a gift to my mom," said Newsome. "She works full time, volunteers at her church, and is a wonderful grandmother to my children. She loves life and has faith that a cure will be found in her lifetime. Her courage and strength is an inspiration to all that know her. She is my best friend and I love her."
Every 75 seconds someone dies from breast cancer. By donating locally to Susan G. Komen for the Cure, which supports breast cancer research and education, Customer Magnetism hopes to help reduce those statistics.
Employee Nicole Harris has lost a grandparent and great-grandparent to cancer, and supports the company's initiative in trying to help find a cure for breast cancer.
"I miss them both dearly," said Harris. "I truly hope that one day soon they find a cure for cancer."
In addition to the company's 5% donation during October, some of Customer Magnetism's employees will make personal efforts in fund-raising by participating in the 10th Annual Komen Tidewater Race for the Cure on Saturday, October 17th at the Virginia Beach Oceanfront. To join the event, visit http://www.komentidewater.org.
For more information about Customer Magnetism's donation program, contact Nicole Newsome at 757-689-2873.
About Customer Magnetism: Customer Magnetism has consistently ranked as one of the top ten search engine optimization firms in the country; Top SEO Firms by Website Magazine, Top SEO Company by Promotion World, Top Ten Optimization Companies by Visibility Magazine and the winner of the Organic Optimization category by Top SEOs. Located in beautiful Virginia Beach, Virginia, Customer Magnetism has become well known as one of the most reliable and affordable companies offering search engine positioning services. The company specializes in organic search engine positioning services, strategic link building services and full service pay-per-click management.
About Susan G. Komen for the Cure: The Komen Tidewater Affiliate celebrated ten years of service in September 2009. In 1998, a core group of three volunteers had the vision for an affiliate in Southeastern Virginia. They received affiliate designation from Susan G. Komen in 1999. The first Komen Tidewater Race for the Cure® was held in October 2000 and, with approximately 3,400 participants, was the fifth largest inaugural race in Komen history. In the first year, the affiliate awarded $99,502 in grants and sent $40,500 to the Komen Award and Research Program.
Media Contact:
Nicole Newsome
Director of Public Relations
Customer Magnetism
2697 International Parkway
Suite 201, Parkway One
Virginia Beach, VA 23452
Phone: (757) 689-2873
Fax: (757) 299-8268
###