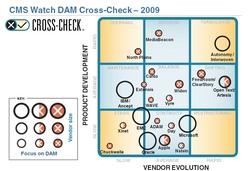 We've seen a lot of lackluster RFP responses from big ECM players proposing DAM solutions
Boston, MA (PRWEB) October 7, 2009
Digital Asset Management (DAM) vendors and products are evolving at surprisingly different rates, in some cases representing a significant risk to buyers. These findings come from vendor evaluation research released today from CMS Watch, a vendor-independent analyst firm, in an update to The Digital & Media Asset Management Report 2009.
Among larger vendors still absorbing acquisitions from 2008-2009, promises of product evolution and integrations under Enterprise Content Management (ECM) Suites have fallen short. For example, DAM vendor Autonomy has acquired a wide array of technologies, but these tools remain disconnected and buyers don't seem to be finding a value-add, while Open Text/Artesia has struggled to roll out a long-promised, new user interface for its DAM platform.
"We've seen a lot of lackluster RFP responses from big ECM players proposing DAM solutions," points out Theresa Regli, CMS Watch's principal analyst and buyer advisor for DAM.
Meanwhile, platform vendors EMC, IBM, Microsoft, and Oracle continue to exert very little force in the DAM marketplace, leaving ample space for more nimble competitors. "It's the smaller, mid-market DAM vendors who represent a safer bet for customers willing to trade off big brand names for greater stability," notes CMS Watch analyst, Kas Thomas.
To capture these disparate rates of vendor evolution, CMS Watch released the updated "DAM Cross-Check™" diagram - offering a buyer-oriented risk assessment of the Digital Asset Management marketplace. The diagram specifically addresses vendors' evolution as it relates to product development, thereby providing an overall marketplace assessment.
Specifically, CMS Watch finds that:

Larger market leaders continue to represent the highest risk to buyers in terms of product stability and corporate change (e.g., Autonomy, Open Text), due to continued rapid development of new product features and the difficulty of digesting acquired assets.
Mid-market and small, specialist vendors today typically represent a lower risk in terms of both product and corporate stability (e.g., Extensis, Canto, WAVE, Vyre, and Widen, among others)
The Digital & Media Asset Management Report 2009 is available for purchase online from CMS Watch (http://www.cmswatch.com/DAM/Report/#buy)
About CMS Watch
CMS Watch™ evaluates content-oriented technologies, offering head-to-head comparative reviews of leading solutions. Through highly detailed technical evaluations and online education courses, CMS Watch helps sort out the complex landscape of potential solutions so that buyers can minimize the time and effort to identify technologies suited to their particular requirements. To retain its independence as a totally impartial analyst firm, CMS Watch works solely for solutions buyers and never for vendors. Research services cover: Web Content Management, Web Analytics, Digital Asset Management, Enterprise Content Management, SharePoint, Enterprise Social Software & Collaboration, Enterprise Portals, Enterprise Search, XML & Component Content Management, and E-mail Archiving & Management.
For more information, please visit: http://www.cmswatch.com. Follow us on Twitter- http://twitter.com/cmswatch.
###