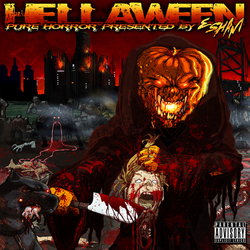 The vision was to manifest a project framed around the psyche of these characters while loosely paying homage to the format of classic radio programs like
Detroit, Michigan (PRWEB) October 8, 2009
Independent hip hop kingpin Esham has returned to engrave his name on this year's Halloween season with a new hour long creep show experience, "Hellaween: Pure Horror". Dropping on CD and digital download October 13 through Aknu Media, the new album features 17 polarizing tracks juxtaposed with gore laden sound effects and a host of classic horror villains hell bent on terrorizing audiences worldwide.
Esham adds, "The vision was to manifest a project framed around the psyche of these characters while loosely paying homage to the format of classic radio programs like "War of the Worlds". 'Hellaween' resurrects the best of horror cinemas antagonists while showcasing Esham and his entire label roster rhyming in character throughout the entire album. The production combines a diversified supply of hard hitting compositions with esoteric overtones and smash mouth, b-movie swagger sewn together like stitches in flesh.
Esham's career dates back to 1989 with the release of his debut "Boomin Words from Hell" when he first began mixing hip hop with hard rock and the dark arts. His "acid rap" style of suicidal storytelling, sexploitation and violent street anthems are considered influential to Eminem, D12, Kid Rock, Insane Clown Posse, Twiztid as well as an entire sub-genre within hip hop. "Hellaween: Pure Horror" continues Esham's history of the macabre in an entirely new medium that's a sure shot to rock any costume party, monster ball or haunted house this Halloween.
Track Listing
01. Jack Lantern
02. The Mummy
03. Invisible Man
04. You wouldn't like me when I'm angry
05. Attack of the Blob
06. Evil Dead
07. Freddy Krueger
08. Se7en
09. Dr. Jekyll and Mr. Hyde
10. Ghetto Werewolf
11. Do you like me?
12. Pinhead
13. Seed of Chucky
14. Van Helsing
15. Frankenstein
16. Zombieland
17. Michael Myers
Streams:
Free MP3 "Van Helsing" ft. Esham & Daniel Jordan produced by Essman
http://www.acidrap.com/vanhelsing.mp3
Bio, pictures, and streams available at Esham's official website
http://www.acidrap.com
Esham MySpace page:
http://www.myspace.com/theeshamhomepage
Please contact James Smith if interested in talking with Esham.
###