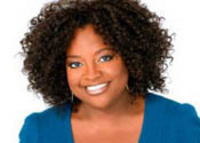 Just to look at my son and see where he started when he came to YAI and where he is now, gives me a profound sense of gratitude
New York, NY (PRWEB) October 7, 2009
Sherri Shepherd, the actress, stand-up comedian and Emmy Award winning co-host of ABC-TV's "The View," has graciously agreed to serve as spokesperson for the YAI Network, a 52-year-old non-profit serving people of all ages with developmental and learning disabilities and delays and their families.
Shepherd, whose son Jeffrey attends a preschool, part of the YAI Network, for children with special needs, is passionate about spreading the word about the quality of the organization's services.
"Just to look at my son and see where he started when he came to YAI and where he is now, gives me a profound sense of gratitude," said Shepherd, who is donating her time to help the YAI Network. "I don't know what I would have done without YAI. The staff care; they love; they nurture and they want to keep building each child's potential."
Shepherd's comedy "Sherri" premiered on Lifetime TV on Monday, Oct. 5, and her book "Permission Slips: Every Woman's Guide to Giving Herself a Break" (Grand Central Publishing Hardcover, $24.95), was released on the same day.
"We are honored to have Sherri serve as spokesperson for the YAI Network," said Dr. Philip H. Levy, CEO and President of the organization. "Her passion, commitment and energy will increase public awareness about services available for children and adults with special needs. As a parent, she knows how important it is to find a nurturing environment that provides hope and opportunity for her son and thousands upon thousands of people with disabilities and their families."
Comprised of seven not-for-profit, independent health and human service agencies, the YAI Network serves people of all ages throughout the New York metropolitan area, including Long Island, New Jersey and Westchester, Rockland, Orange, Sullivan, Dutchess and Ulster counties, Puerto Rico and the U.S. Virgin Islands. One of the most comprehensive networks of its kind, the YAI Network's more than 5,500 staff members serve 20,000 individuals in more than 450 community-based programs. The YAI Network is recognized nationally for its conferences, training seminars and publications.
For more information about the YAI Network or to obtain services, call 1-866-2-YAI-LINK or visit yai.org.
###