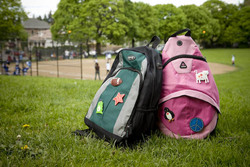 Vista, CA (Vocus) October 7, 2009
Vocus) October 6, 2009 -- PakNak® LLC (http://www.paknak.com) announced it was named one of the best back-to-school products by USA WEEKEND Magazine!
PakNaks® (http://www.paknak.com) are decorative accessories that transform plain backpacks, bags, headbands and other stuff into personalized, ever-changing, colorful works of art. With 40 plus designs that are interchangeable, weather resistant and quickly and easily adhered to all of your stuff, all without ironing or sewing, PakNak® makes changing one's style easy.
PakNak® was founded in 2007 by two Portland, Oregon moms who were seeking a simple yet creative way to decorate their childrens' stuff. One of their daughters had suggested that they invent something to decorate backpacks that wouldn't require sewing as she correctly knew that it would never get done if it required that much "craftiness".
With much insightful feedback from their 6-13 year old resident product testers, PakNaks® developed into the coolest and easiest way for kids to customize their favorite things.
The moms worked toward building a profitable business, but knew they wanted much more than just that. They wanted to set a standard for social responsibility, so they contacted the warm and wonderful people of Eastco, where they focus on clients abilities, not disabilities, to help pack the Naks. From there, it was only fitting that their first large order (10,000 PakNaks®!) should come from Schoolhouse Supplies (http://www.SchoolhouseSupplies.org), a free store for public school teachers in their hometown of Portland, Oregon.
PakNaks® make terrific birthday party giveaways, tooth fairy leave behinds, incentives, gifts, luggage identifiers, stocking stuffers, etc. Parents can say goodbye to ironing, sewing and pinning on decorations and kids go wild thinking up new places to put their PakNak®.
Simply peel-stick-style!
Viewers can fan the USA Today WEEKEND page at http://www.usaweekend.com/09_issues/090802/090802cover-back-to-school.html to find out more about why PakNak® is such a big hit this school season!
For more information about PakNak® please visit: http://www.paknak.com or contact: (503)329-7506.
Contact ChicExecs PR
ChicExecs PR
1487 Poinsettia Ave Ste 125
Vista, CA 92081
760.992.9113
About ChicBlvd Inc: ChicBlvd Inc, a women-owned multi-media company located in San Diego , CA which began in 2004, includes three divisions--an online magazine: ChicBlvd at http://www. ChicBlvd.com, product development division: chicBuds Designer Electronics at http://www.chicbuds.com and a Public Relations firm: ChicExecs PR at http://www.chicexecs.com servicing over 80 Clients (sign up for Client updates at
http://www.ChicExecsMedia.com.
###