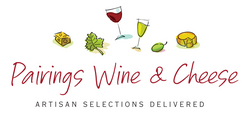 We work only with artisan producers because we believe that artisan wines and cheeses offer more interest, depth and complexity, and make the best pairings
Sonoma County, CA (PRWEB) October 7, 2009
Two couples -- both wine industry legends -- have teamed up to start PairingsWineandCheese.com, a new online wine company offering limited-release and expertly matched pairings of artisan wines and cheeses.
The site offers paired wine and cheese selections for single purchase at any time and on an every other month basis through its membership-only Pairings Clubs.
Via its ' A la Wine & Cheese Carte,' the company offers three limited-release wines each month - a red, a white, or a sparkling -- each paired with hand-selected artisan cheeses. The pairings change monthly.
Members of the One & One (one wine and one cheese) or Two & Two (two wines and two cheeses) Clubs receive paired shipments 6 times a year.
Club Members also enjoy a unique gift with each shipment, behind-the-scenes stories about the wine and cheese producers, access to expert information and advice, and discounts on wine and cheese reorders.
"We work only with artisan producers because we believe that artisan wines and cheeses offer more interest, depth and complexity, and make the best pairings," said Joel Helman, a Pairings Wine & Cheese partner, and former co-owner of North Coast Wine Group, a pioneer of online wine sales.
Artisan wines and cheeses are highly regarded because they are usually estate or farm produced using only the highest quality (often organic) ingredients and time-honored artisan processes.
"Because artisan cheeses and wines offer more intense flavors than their commercial counterparts, the pairings are distinctive and delightful," said Shelly Kalmer, co-founder of Via Pacifica Imports, a leading company that introduced New Zealand wines to the North American market.
Visit a Pairings Wine & Cheese party on YouTube: Pairings Wine & Cheese Video.
For additional information about PairingsWineandCheese.com contact Howard Kalmer or visit PairingsWineandCheese.com .
About Pairings Wine & Cheese
With decades of combined experience in the wine and food business, the four founders of Pairings Wine & Cheese are Jenny & Joel Helman and Shelly & Howard Kalmer. Two couples, four intrepid seekers, searching the globe for the finest pairings of artisan wines and cheeses. One great company dedicated to bringing epicurean epiphanies to their clients.
The company was founded in 2009 and is located in the heart of wine and food culture in the United States, Sonoma County, California. The company works closely with artisan wine producers from the US and around the world, and with renowned distributors and producers of handcrafted cheeses.
Contact:
Howard Kalmer, Partner
Pairings Wine & Cheese
707.953.8743
800.503.6493 x 12
PairingsWineandCheese.com
###