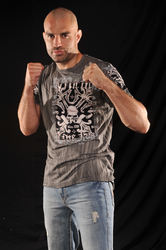 We are very excited to take part in this crossover event. Mixed Martial Arts is the fastest growing sport ever and to be able to bring this to the OC Auto Show is an honor. We are excited to show families and car enthusiasts what Mixed Martial Arts is all about
Hollywood, CA (PRWEB) October 7, 2009
Guests attending the 13th Annual Orange County Auto Show--taking place Thursday, October,15th through Sunday, October 18th at the Anaheim Convention Center--will not only have the opportunity to preview hundreds of new cars, trucks, sport utility and crossover vehicles, they will also have a chance to get up-close and personal with some of the most talented Mixed Martial Arts (MMA) Fighters in the region and receive expert advice from one of the world's top Poker Professionals.
BAMMA USA, a Special Events and Mixed Martial Arts production company has tapped the hottest rising stars from the MMA community to provide entertainment for guests attending the auto show. Show-goers will witness MMA cage match demonstrations on Saturday, October 17, at 8 p.m. which will include; grappling, kick boxing, mixed martial arts and jujitsu demonstrations. Fighters taking part in all the action includes; UFC TUF Season Nine winner James Wilks, five-time World Champion Kick Boxer Kathy Long, Strikeforce and King of the Cage veteran Brain Warren plus many more, will greet fans and sign autographs at the OC Auto Show.
BAMMA USA has secured Absolute Poker Pro Matt Vengrin--who has won over $1.7 million dollars in on and offline tournaments over the last 2 years--to take part in the auto show on Saturday October 17th as well. Matt Vengrin will offer poker fans tips and advice on improving their game, and introduce guests to the world of Absolute Poker. Some lucky event goers will have the chance to play against each other and the Poker Pro for a chance to win exclusive prizes from Absolute Poker (http://www.absolutepoker.net).
BAMMA USA will conclude its ring girl competition at the OC Auto Show, finalist of the BAMMA USA and Velvet Industries' Velvet Ring Girl Contest will be announced on Friday, October 16, at 8:40 p.m. The top five girls from the online contest will compete live in front of judges for the coveted Velvet Ring Girl title. The winner will receive $500.00 in cash, a professional photos shoot with Velvet Industries, Tapout Magazine and MMA Worldwide Magazine. Prizes also include a watch from Polanti Watches and other gifts provided by participating sponsors, for additional information on the contest, visit http://www.bammausa.com.
"We are very excited to take part in this crossover event. Mixed Martial Arts is the fastest growing sport ever and to be able to bring this to the OC Auto Show is an honor. We are excited to show families and car enthusiasts what Mixed Martial Arts is all about," says Brett Roberts CEO of BAMMA USA. "One of our goals is to represent MMA's true heritage that is the art behind these athletes. Our hope is that more people young or old will look at this as great way to stay healthy and fit. MMA helps nurture team building skills, build self confidence, and gives people of all ages an opportunity compete in sport at all levels, all over the world. We are thrilled to be one of the first sports represented at the OC Auto Show and we look forward to bringing MMA closer and closer to families from all around the world."
About The OC Auto Show:
The OC Auto Show is owned and presented by the Orange County Automobile Dealers Association and the Southland Motor Car Dealers Association and produced by Motor Trend Auto Shows, LLC. The auto show will be open to the public Thursday, October 15 through Sunday, October 18, at the Anaheim Convention Center, located at 800 W. Katella Ave. in Anaheim. Show hours are Thursday, from 4 p.m. to 10 p.m., Friday, from noon to 10 p.m., Saturday, from 9 a.m. to 10 p.m. and Sunday, from 9 a.m. to 7 p.m. For more information regarding the OC Auto Show please visit: http://www.OrangeCountyAutoShow.com.
About BAMMA USA:
BAMMA USA is a Special Events and Mixed Martial Arts company dedicated to building strong fighters and providing an environment in which fighters are truly valued. The company aims to support the talents of each fighter, honor the foundations of the sport, to respect the warrior and to create a system that recognizes the sacrifices of these superior athletes. For more information regarding BAMMA USA please vist: http://www.bammausa.com.