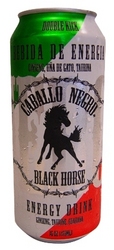 As distributors, we are always on the lookout for new and unique products to introduce into our markets
San Diego, CA (PRWEB) October 7, 2009
Caballo Negro Energy Drink has finalized the terms of a beverage distribution agreement with Superior Products Company of Willows, California.
Through this beverage distribution partnership, Caballo Negro 16 oz. will be made available to Hispanic, Latin and General Market energy drink consumers in more than 1100 retail outlets in Northern California, including the counties of Butte, Colusa, Glenn, Lassen, Modoc, Plumas, Shasta, Siskiyou, Sutter, Northern Sierra, Tehama, Eastern Trinity, Yuba.
"As distributors, we are always on the lookout for new and unique products to introduce into our markets," said Mark Carter, Vice President of Sales for Superior Products Company. "We had some great experiences with Caballo Negro in recent years and are very excited to be able to offer the product to our entire territory beginning in September. We have seen the brand's success before, there is no doubt that Caballo Negro will be strong competitor in the energy arena and a leading product with the Hispanic demographic markets we have demanding a higher octane product."
Superior Products Company recently celebrated 25 years of providing high-quality alcoholic and non-alcoholic products to retailers stretching from the Northern Sacramento Valley to the Oregon border. Some of the well-known brands Superior Products Company distributes in parts or all of their counties include beverages from Anheuser-Busch InBev, Heineken USA, Modelo, Femsa, Spaten, New Belgium, Sierra Nevada, Rogue Ales, and other fine domestic, micro and imported beers. Superior Products Company also carries wines and spirits such as Kendall-Jackson, Pendleton Whisky and many other high-end tequilas. In addition, it provides a wide array of non-alcoholic products, including Pepsi-Cola, Gatorade, Redline, Roaring Lion Energy Drink, Go Girl, Adina, Holistics, Dad's Root Beer, AriZona Teas, Arrowhead Water and other non-alcohol products.
For Caballo Negro Energy Drink, which changed ownership and management in May, this new distribution agreement represents an important expansion into key target markets, and an aggressive step forward in meeting the company's ambitious sales and operation goals for 2009.
"We re-launched the Caballo Negro brand earlier this year, and in a very short space of time we have seen the return of a very high level of demand for this product," said Jorge Olson, Brand Manager and Acting VP of Sales and Marketing. "We are excited about this partnership, and we definitely look forward to providing them outstanding sales support to keep demand growing in Northern California."
About Caballo Negro Energy
Caballo Negro Energy, headquartered in San Diego, California, is led by an experienced and highly enthusiastic leadership team with the right combination of skills and market savvy to ensure that the product quickly achieves leading status in its segment. Caballo Negro Energy Drink was designed to appeal to Hispanic energy drink consumers, both in taste as well as brand design. (It took more than a year and countless consumer preference tests to perfect the unique Caballo Negro taste.) Due to its ultra high energy content, the brand has proven equally appealing to a diverse consumer base. For more information, visit the Caballo Negro web site at http://www.drinkcaballonegro.com
Media Contact:
Jorge Olson
Brand Manager
(619) 852 6942
###