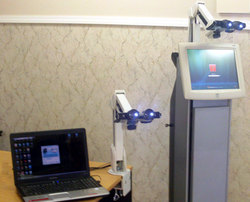 Los Angeles, CA (PRWEB) October 8, 2009
IridoLab is the first of its kind, fully automated, and completely noninvasive, biometric health evaluation system designed for ordinary people who want to proactively monitor their health and the health of their families. It works by analyzing a person's eyes by using highly advanced computer algorithms that incorporate iris-based biometric analyses methodology and techniques described by leading researchers in the field of Iridodiagnostics. Iris-based biometric health evaluation is not new and is in wide use around the world. It belongs to the group of methodologies and techniques generally classified as Complementary and Alternative Medicine (CAM).
IridoLab is the combination of a specially designed webcam adapter to scan eyes and a web system that allows customers and doctors to retrieve their health evaluations online. In short: a customer approaches an IridoLab kiosk or mall cart and scans both eyes at once using our dual-eye camera system in as little as 10 seconds. Then the computer searches the pictures for specific biometric characteristics of the iris and compares the obtained readings to statistical norms, producing the IridoLab Evaluation Report. A summary of the report is displayed for free to the customer with the option to buy a detailed report which can be viewed right away, printed right away or viewed online.
In November 2009 IridoTech is going to start accepting order for either a fully-automated mall cart and trade show version which features a dual-eye camera system and separate computer/printer or a fully-automated kiosk which works like a vending machine meant for retail locations. Currently a personal single-eye handheld version is available.
###