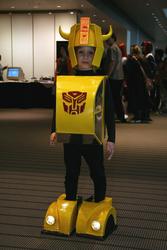 Hampton, VA (Vocus) October 9, 2009
This November 6-8, 2009 the Hampton Roads Convention Center welcomes back over 3,500 otkau (fanboy's and fangirl's) to NekoCon XII (12), a Japanese anime convention being held for the fourth consecutive year at the center and the twelfth consecutive year in the Hampton Roads region. As in years past, the event will feature everything from cosplay (a combination of the words costume and play, cosplay refers to individuals dressing up in outlandish costumes) - to L.A.R.P. (Live Action Role Playing) in which attendees dress up as their favorite anime characters and become part of the action.
Convention Chairman, Martin Mathews, remarks, "We have come a long way since our first event of three hundred people to expecting over three thousand five hundred new and returning members.
Members are welcome to attend various panels and workshops, purchase merchandise in the dealer's room, and be a part of main attractions like karaoke contests, art shows, and nightly dances. Saturday afternoons cosplay, a convention favorite, invites members to portray their favorite characters and perform skits or display their costume-making expertise.
One of the longest running traditions is the art show, featuring work from both amateur and professional artists showcasing anime, fantasy, and sci-fi inspired work. Convention attendees are encouraged to browse all art selections, as well as make bids on selected pieces that are currently up for sale. The art auction on Sunday, November 8, will allow conventioneers the opportunity to finalize or make any changes to their bids. There is no fee to display art.
Different from the art show and art auction is the artist alley, an area designed to allow nonprofessional and semiprofessional artists to display, create, and commission their own traditional work in formats ranging from models, t-shirts, calendars, drawings, posters, and more. The artists are encouraged to display and sell their own merchandise. While fan art is not banned from the alley, the sale of fan art is restricted and will be strictly policed for copyright infringement. (An example of fan art would be an artist selling HIS/HER rendering of Wolverine though the artist did not create Wolverine).
Other major highlights of NekoCon XII include an AMV contest; as well as a dealer's room where fans can purchase DVDs, CDs, posters, wallscrolls, manga, idol cards, and more. This year will also feature an even larger game room than in year's past.
NekoCon XII will include guest appearances by:

Greg Ayers- Voice Actor and Disc Jockey
Tony Oliver - Veteran voice actor in anime since the late 70s
Newton Ewell - Illustrator, conceptual and production designer, and mechanical design contributor to a number of RPGs (Role Playing Games)
Echostream – J-POP band who's members include Ryoko (vocal), Tomo (guitar), Tony (keys, production), Jen (acoustic drums) and CJ (electronic drums). Echostream's music is a dark and brooding film for your ears. Mixing electronica textures and guitar-driven riffs, the band works hard to occupy two worlds at once: angst and beauty
Colleen Clinkenbeard - Voice actor, ADR director,ADR scriptwriter and Line Producer for FUNimation Productions
Kyle Hebert - Animation and video game voice actor
Ellyn Stern - Actress, voice actress, writer, director and producer
Richard Epcar - Animation and video game voice actor
Caitlin Glass - Voice actress and ADR director
Fred Perry – Comic Book Artist and avid Marvel Fan
Steve Napierski – Webcomic creator of Dueling Analogs
Danny Valentini - Founder of 2wcOnline and creator/artist of The Draconia Chronicles
Donnie Sturges - Writer for The Draconia Chronicles, Draconia historian, and creator of the still-needs-an-artist web comic Psycho Dreamatic
Jamie Sturges - Co-founder of 2wcOnline and art consultant
Mike Hall – Webcomic creator of [sic]Productions and Across the Multiverse
Chris Malone – Webcomic creator of Blue and Blond
Suicide Ali - Formed by vocalist Goshi and guitarist Hiroshi, Suicide Ali breathed it's first breath in 2004. Described as a bastard child of deep psychological ideas and questioning, the band's music and ideas seem to explore and attempt to discover what truely is the meaning of life, from its epic battles to its smallest nuances. The two brought in Yuu on guitars and Hisashi on drums in mid 2005. Having only a few downloadable demos on their website, the band managed to gain wide notoriety with both the Japanese and American visual kei fanbases. When Yuu announced he would be departing the band in early 2009, Koji was welcomed in to fill the void. The band continues to bring its unique autonomy and outlook on life to the world, with hopes to one day conquer it.
Friday and Saturday's festivities will include concerts from Suicide Ali and will conclude with dances: The Giant Robot Dance featuring DJ Ayres at 10:30 p.m. on Friday November 6, and Catseye with Rob Lantz and Andrew Iwancio at 10:00 p.m. on Saturday November 9.
NekoCon 12 Hours:
Friday, November 6: 12:00 p.m. – 2:00 a.m.
Saturday, November 7: 8:00 a.m. - 2:00 a.m.
Sunday, November 8: 8:00 a.m. - 5:00 p.m.
Artist Alley Hours:
Friday, November 6: Noon- 11:00 p.m.
Saturday, November 7:10:00 a.m. – 11:00 p.m.
Sunday, November 8: 10:00 a.m. – 3:00 p.m.
NekoCon 12 Memberships:
Regular Child
(7 yrs. And up) (6yrs. & under)
At the door
(full membership) $50 FREE
At the door (One Day Trial Membership)
(Friday Nov. 6 only) $35 FREE
At the door (One Day Trial Membership)
(Saturday Nov. 7 only) $40 FREE
At the door (One Day Trial Membership)
(Sunday Nov. 8 only) $30 FREE
Entrance is good for a one- year membership to NekoCon. Everyone who pays admission to NekoCon will receive this membership, entitling them to newsletters and announcements regarding future events and activities.
Partially bordered by the Hampton Roads harbor and Chesapeake Bay, Hampton, with the 344,000 sq. ft. Hampton Roads Convention Center, is located in the center of the Hampton Roads metropolitan area. Hampton is the site of America's first continuous English-speaking settlement and is home to such visitor attractions as the Virginia Air & Space Center and Riverside IMAX ® Theater, the Cousteau Society, Hampton History Museum, harbor tours and cruises, Hampton University Museum, Fort Monroe, award-winning Hampton Coliseum, The American Theatre, among others. Hampton was twice-named All-America City, the nation's oldest and most prominent community recognition award.
###