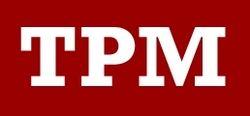 New York, NY (PRWEB) October 7, 2009
TalkingPointsMemo.com (TPM) today announced its fourth consecutive month of record-breaking traffic, all in advance of the site's Fall editorial expansion. Excluding the ten weeks before the historic 2008 election, unique users in June, July, August and September of 2009 each broke the site's previous record (see stats below). All told, the summer's growth resulted in 54% more readers coming to the site in September than did in May.
Editor and Publisher Josh Marshall credits a loyal audience and the site's ability to cover and drive the national political conversation.
"TPM has always had a deeply engaged and loyal audience. They are at the center of how we report the news everyday . But now they're using social media sites like Twitter, Facebook and Digg to share our reporting with new readers. And the new readers are sticking around. Over the same period that unique readers went up more than 50%, direct visits to our homepage went up almost 25%. That's new readers becoming regular readers. And they are turning out to be just as engaged as those who have been with us for years. Reader engagement is up significantly."
During this same period, TPM booked strong results from its nascent direct ad sales business. Direct ad revenue climbed 154% in 3rd Quarter year over year, while September saw more advertisers working directly with TPM than in any previous month. Overall display ad revenue, including from ad networks, jumped 41% year over year. In August TPM added a 1/2 page ad (300x600) to the site's stable of available ad types.
TPM's editorial expansion is now well under way; Marshall recently announced three hires, and four more openings to be filled this fall. Ben Frumin of Reuters has joined TPM as Senior News Editor, while both Christina Bellantoni of The Washington Times and Evan McMorris-Santoro of Hotline began this week. Bellantoni and McMorris-Santoro joined Managing Editor David Kurtz in opening TPM's new Washington, DC bureau. Bellantoni will be covering the White House and McMorris-Santoro will focus on campaigns and elections.
----
Audience stats (as recorded by Google Analytics):
Audience size (Monthly unique readers):
May: 1,354,049
June: 1,665,146
July: 1,724,824
August: 1,851,454
September: 2,084,889
Homepage audience (visits per month)
May: 6,575,283
September: 8,019,213
Audience engagement (pageviews per visit):
May: 2.08
September: 2.35
See full-text of the release at TPM
###