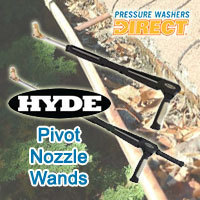 Cleaning gutters can literally be a pain in the shoulder
Bolingbrook, Illinois (PRWEB) October 8, 2009
Leaves are turning colors and soon enough they will be falling, falling right into your gutters. PressureWashersDirect.com, has a solution for homeowners looking for a faster, easier way to clean out their gutters, the Hyde pivot nozzle pressure washer wand.
The Hyde pressure washer wand attaches right onto the end of your current pressure washer gun, giving you complete control over the angle and direction of your spray.
The pivot head on the end of the wand is what makes these wands so unique, it allows for 180 degrees of cleaning with a simple twist of the wrist.
"Cleaning gutters can literally be a pain in the shoulder," said Jon Hoch, founder and CEO of Power Equipment Direct, the parent company of PressureWashersDirect.com. "These wands allow homeowners to pivot the nozzle down into the gutter while holding the pressure washer gun in a comfortable position, not over their heads."
These Hyde pivot nozzle wands come in two sizes, a 28 inch wand for pressure washers up to 3200 psi and a 40 inch wand for pressure washers up to 4000 psi.
Pressure Washers Direct also offers a wide selection of telescoping wands, spray lances, long range nozzles and detergent, to help complete all of your fall projects.
Power Equipment Direct operates nine niche online superstores. In addition to PressureWashersDirect.com, the Bolingbrook, IL-based company operates AirCompressorsDirect.com, ElectricGeneratorsDirect.com, SnowBlowersDirect.com, MowersDirect.com, WaterPumpsDirect.com, SumpPumpsDirect.com, ChainSawsDirect.com and LogSplittersDirect.com
# # #