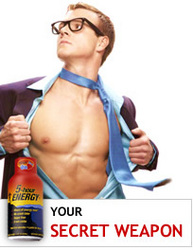 Farmington Hills, MI (PRWEB) October 8, 2009
After challenging Maxim Magazine readers to discover why fans choose 5-Hour Energy shots 4 million times a week over canned energy drinks and then inviting Men's Fitness readers to showcase how they are the perfect 5-Hour Man, the team at 5-Hour Energy is giving a final reminder that its summer promotions are drawing to a close, but the chances to win a year's supply of 5-Hour Energy shots and other swag are abundant.
The contests are still hot and as the days count down to the Oct. 16 closing date the competition to win a year's supply of 5-Hour Energy shots is getting fierce. The soon-to-be-complete contest is all about releasing inner 5-Hour Energy Man and competitors can start by finding out what type of 5-Hour Man they are. From the Life of the Party to the Don Juan/Casanova romantic, they can have fun using the 5-Hour Energy Man profiler to identify which type of 5-Hour Energy man fits them the best and what they could do to reach their full potential. Next, it's on to the competition for prizes in the 5-Hour Energy Scavenger Hunt and 100m Dash, which awards up to a one-year supply of 5-Hour Energy shots and 5-Hour swag.
The most exciting part is for those fans that fell they can fit the bill for the brand's iconic 5-Hour Energy Man and can become the newest face of the popular 2 oz. energy shot carry the title of a 5-Hour Featured Fan. Hopefuls have until Oct. 16 to submit their 400-words or less story and photo exhibiting why they are one of 5-Hour Energy's biggest fans and a true 5-Hour Energy Man. The champion, carefully chosen by the 5-Hour Energy team, will win a one-year supply of 5-Hour Energy shots and be presented their own profile page along side other Featured Fans.
The conclusion of the 5-Hour Energy summer promotions and contests doesn't mean the fun is over. The 5-Hour Energy team is gearing up for a fall and winter season of even more energy boosting events, products launches and fan contests. Keep up-to-date with the team's anticipated contests and events at the 5-Hour Energy Fan Zone, team Blog and follow the 5-Hour Energy Guy on Twitter (@5HourEnergyGuy).
About 5-Hour Energy:
5-Hour Energy is a two-ounce energy shot that provides hours of energy and alertness with no crash* and no jitters. It contains a blend of B-vitamins and amino acids, zero sugar, and only four calories. It is available at retail outlets throughout the United States and Canada.
*"No crash" means no sugar crash. 5-Hour Energy contains no sugar. Individual results may vary. For more information, please visit: http://www.5hourenergy.com.
Contact Information:
Carl Sperber, Director of Corporate Communications
Living Essentials
38955 Hills Tech Drive
Farmington Hills, MI 48331
Phone: 248-960-1700
Fax: 248-960-1980
###