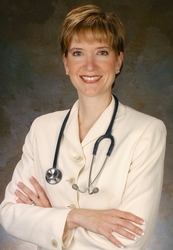 Food is a major factor when it comes to our health, and it is something that is directly within our control.
Naples, Florida (PRWEB) October 13, 2009
This October is the 24th annual "Talk About Prescriptions" month. "TAP" Month 2009 gives the healthcare community a chance to reflect on the number of prescription medications used in the U.S. Do Americans need to be taking so many drugs? According to bariatric physician Caroline Cederquist, M.D., the answer is no. Dr. Cederquist explains that proper nutrition could eliminate not only the need for prescription drugs that treat common diseases but the diseases themselves.
When nutrient intake does not meet nutrient needs, the metabolic processes slow down or even stop. Slow metabolisms lead to weight gain which in turn leads to a number of common yet deadly diseases including diabetes and heart disease. Hippocrates famously pronounced, "Let your food be your medicine, and your medicine be your food." Modern day specialists tend to agree.
Bariatric physician Caroline Cederquist, M.D., founder of diet delivery service Bistro MD, points out that good nutrition can change a person's life. Dr. Cederquist explains that in many cases, diseases can be maintained, treated, and even prevented with the proper diet. "Medication to treat high cholesterol, high blood pressure, and diabetes are some of the most commonly prescribed medications," she says, "but some conditions respond extremely well to weight loss and could go away if you lose weight."
In a number of cases, Dr. Cederquist has been successful in reducing or eliminating the need for medications as her patients have lost excess weight.
According to Dr. Cederquist, the main priority of doctors and their patients should be to fix the primary problem. Medications treat issues but do nothing to solve them. For example, losing weight and regaining a healthy lifestyle could be much more successful in eliminating high cholesterol than continually taking cholesterol medications. "All medications have benefits but they also have risks," Cederquist points out. "Normalizing weight is a wholly healthy proposition."
Dr. Cederquist's personal effort to normalize patients' weights is available nationwide through her diet meal delivery program Bistro MD. Bistro MD seeks to address declining health by providing the foods and nutrients needed to restore proper body function. Three balanced meals and two snacks a day are delivered to clients' homes across the country. Access to a team of dietitians makes eating right trouble-free on a Bistro MD diet meal plan.
Registered dietitian and head of Bistro MD's nutrition support team, Christina Shatlock, says to take advantage of the control you have over food. "Food is a major factor when it comes to our health, and it is something that is directly within our control." "You can't always control other factors of health like the air you breathe or your genetics," she says, "but you can control what you put in your mouth." A healthy diet can ward off diseases like osteoporosis, diabetes, certain cancers, and heart disease. As some foods boost the total immune system, it is also possible for diet to play a role in preventing common colds and other routine illnesses. "The healthiest, most inexpensive form of alternative medicine is the food we eat," Shatlock says.
To encourage normalizing weight and to celebrate "TAP" Month 2009, Bistro MD is offering free shipping on first week's orders through the end of October. Enter code "TAP2009" at checkout. To order, visit the company's website at http://www.bistromd.com.
Dr. Caroline Cederquist is board certified in family medicine and bariatrics, the specialty of medical weight loss. Bistro MD is the home-delivery version of Dr. Cederquist's clinical dietary program. Originally available only to her Naples patients, Dr. Cederquist's meals became so popular by word of mouth that expansion efforts had to be explored. Today Bistro MD meals are delivered directly to clients' homes all across the United States. The company has become a leader in diet meal delivery, diabetic meal plans, senior meal delivery, and vegetarian meal plans. Bistro MD is available online at http://www.bistromd.com.
# # #