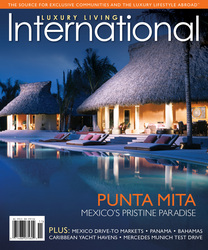 Mooresville, NC (PRWEB) October 8, 2009
Launched in 2006, Luxury Living International (LLI) has just been reinvented on-line as the most valuable resource for information and ideas on buying vacation homes, living the good life and retiring in the sexiest areas south of the border.
Baby Boomers are looking for new and more experiential lifestyles today as well as investments that they can enjoy now versus strictly financial investments. LLI provides the critical information consumers are seeking to help them make informed decisions on investing in their dream home and the desirable lifestyle of the tropics.
Most envision vacationing or living among swaying palms and amazing blue waters with sand between our toes in places like the Caribbean, Costa Rica, Mexico or Belize. When we vacation in the Caribbean or Latin America and begin to dream of owning a vacation home, or perhaps even living in a particular country or island full-time, there are many aspects of the investment to consider in terms of both money and time. Taking that dream to reality requires information and research about your favorite sanctuary in the tropics…and that just got a whole lot easier with the re-launch of the new Luxury Living International (http://www.luxurylivingint.com ) magazine online.
As real estate in the Caribbean, Central and Latin America makes a turn upward, with the economy right behind it, Baby Boomers from North America, Western Europe and the UK are once again looking at investing in the good life abroad. LLI embodies this renewed spirit and presents its new and redesigned on-line magazine to accommodate the true needs of buyers. "For people that want to live in paradise and need relevant news and information on real estate in the Caribbean and Latin America, this new online magazine is a vital resource to assist them in achieving that goal", says Bill Shea, managing editor.
LLI has always been synonymous with great writing from seasoned veterans, coupled with stunning photography that showcases amazing destinations, new master planned communities and real estate from the premier realtors in this region of the Americas. With in-depth research in an easy-to-follow format, LLI helps simplify the experience for prospective buyers when they actually become owners and potentially, residents in foreign countries.
LLI's redesigned on-line format provides real estate developers in these countries--along with real estate professionals and their clients--a high-profile showcase to present their spectacular properties.
LLI also includes entertaining and informative stories such as the top five best harbors for sailors to live at, a profile of the finest master-planned communities, and a feature revealing Costa Rica's best bars. The latest on ultimate island interiors, green building products, and fine wines and spirits rounds out this first all-new electronic edition, along with enticing travel stories on blue-water destinations for diving, fishing, seaside spas or merely enjoying a hammock amid swaying palms.
In the next issue LLI will feature the celebrity lifestyle emerging in Belize, their favorite Bahamas real estate opportunities, new offshore tax information, the latest in luxury outdoor furniture and drive-to markets in Mexico. LLI is the Real Estate and the Good Life in paradise.
###