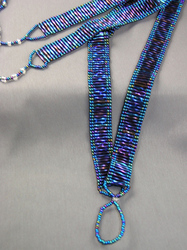 surprised that a company way across the country would even care enough about them to do this for them.
Newbury, OH (Vocus) October 8, 2009
Facing tight budget restrictions because of the state's budget crisis, teachers at Potter Junior High School in Fallbrook, California weren't sure where to turn when they needed to find lanyards and sleeves for their students' school identification.
After learning about the situation, Bonitas International, the home of BooJeeBeads ™ contacted Potter Junior High teacher Katy Tobler, and offered Ms. Tobler a gift of 30 BooJee Beads™ blue and white beaded lanyards—the school colors—and badge sleeves to hold the students' identification badges.
"The beaded lanyards are perfect! I can't express how much we appreciate the donation in light of the extreme budget we are facing here in California. It's so heartwarming to know that there are people who care and are willing to help," said Tobler. Tobler also remarked that her students were "surprised that a company way across the country would even care enough about them to do this for them."
In a 2008, show appreciation to the teachers of Orange County, Bonitas International supplied its workplace fashion accessories to 21 low-income Orange County schools by donating 150 of its specialty beaded lanyard ID necklaces as teacher appreciation gifts. Bette Weinberg, Community Programs Director, Volunteer Center Orange County said, "The teachers so enjoyed the beaded lanyard gifts you provided for the teacher gift bags for the "Spirit of Giving" program. We received many thank you notes from our teachers and in each and every note they shared their gratitude for your generous gifts."
The BooJeeBeads ™ product line features many great choices for educators and those working within the educational community to choose from. To learn more about our products, call or click today at 1-866-726-6533 or http://www.BooJeeBeads.com.
Contact ChicExecs PR
ChicExecs PR
1487 Poinsettia Ave Ste 125
Vista, CA 92081
760.992.9113
About ChicBlvd Inc: ChicBlvd Inc, a women-owned multi-media company located in San Diego , CA which began in 2004, includes three divisions--an online magazine: ChicBlvd at http://www. ChicBlvd.com, product development division: chicBuds Designer Electronics at http://www.chicbuds.com and a Public Relations firm: ChicExecs PR at http://www.chicexecs.com servicing over 80 Clients (sign up for Client updates at http://www.ChicExecsMedia.com.
###