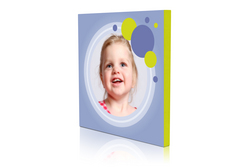 I wanted to cover the walls with something that would excite her imagination - a magical and visually stimulating room for Ayla
Vista, CA (Vocus) October 8, 2009
Joo Baby introduces new designs to nursury room décor that resembles nothing else on the market. They specialize in smart, simple, and stylish wall décor for kids, believing in the philosophy that tt's never too early to start stimulating the heart and mind of a child.
Samira Kordestani is the brain behind Joo Joo Baby. She was inspired to develop this unique décor company shortly after her daughter, Ayla, was born unexpectedly two months early. After remaining in an incubator for two months, she was finally able to take Ayla home. This was a life changing experience and challenge for Samira as a first time mother. In order to distract herself from the constant worry about her new baby, she focused her energy on designing something that would be fun and welcoming for when she could finally be brought home.
"I wanted to cover the walls with something that would excite her imagination - a magical and visually stimulating room for Ayla," says Samira. Having trained and worked for many years as a graphic designer, she had a distinct vision of what was needed for the walls of her room. With her husband as an integral part of the team, they have been creating original pieces non-stop.
The criteria for wall decor was that it had to be modern, colorful, unique, stimulating, safe and fun. What was created are Joo Joo panels, lovingly named after their nickname for Ayla. The panels resemble nothing else on the market. Made out of non-toxic foam, they are safe, lightweight, incredibly colorful and easy to install which is a big plus for busy parents.
On top of the foam is mounted a glossy photo paper for the ultimate in graphic clarity and color vibrancy. This photo paper is specially sealed so it's waterproof, fingerprint-proof, and fade-proof. Joo Joo panels mount quickly and easily onto walls with a removable, non-damaging, self-adhesive foam square that's 1-inch thick, so panels appear to floating on the walls.
Children have an innate curiosity and love for exploring their world, which makes it important for parents to create a visually appealing and stimulating environment for them to grow and learn in. Joo Joo panels reflect this attitude in their bold colors and friendly designs. Personalized Joo Joo panels make your baby star of the show! They can create custom panels featuring your baby's photo or name.
Incorporate your personalized panels into a larger joo joo panel collage, or let them shine all on their own.
For samples or additional information, please contact media(at)chicexecs(dot)com.
ChicExecs PR
1487 Poinsettia Ave Ste 125
Vista, CA 92081
760.992.9113
About ChicBlvd Inc: ChicBlvd Inc, a women-owned multi-media company located in San Diego , CA which began in 2004, includes three divisions--an online magazine: ChicBlvd at http://www.ChicBlvd.com, product development division: chicBuds Designer Electronics at http://www.chicbuds.com and a Public Relations firm: ChicExecs PR at http://www.chicexecs.com servicing over 80 Clients (sign up for Client updates at http://www.ChicExecsMedia.com
###