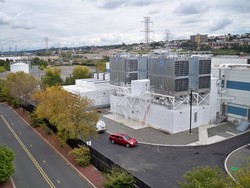 Boston, MA (Vocus) October 8, 2009
Integrated Design Group, Inc. (idGroup) was hired by a co-location data center provider to design the rehabilitation of an existing 160,000 SF building in the northeast region of the US with the ultimate aim of maximizing leasable raised floor area. idGroup resolved the client's design challenges, expedited construction and maximized usable floor space with external modular chillers, preparing the data center for occupancy within a six month time frame.
Among other rehabilitation-related design requirements, idGroup was initially charged with providing a solution for the chilled water system. Distributing mechanical equipment inside the data center would displace thousands of feet of revenue generating co-location space. The facility could not support heavy mechanical equipment on the roof, however, and severely constraining 75' zoning setbacks limited the available area for HVAC equipment outside and adjacent to the building. A long lead-time for zoning variance application contributed to the urgency for alternative, innovative solutions.
IdGroup's design solution included modular chiller plants, fabricated off site, containing cooling towers, multiple 900-ton chillers, plate and frame heat exchangers, pumps and electrical gear. All of this HVAC equipment, housed in a structural steel enclosure, was fabricated to meet loading, seismic and acoustical requirements and shipped in sections for rapid erection. On site construction was significantly expedited by the pre-fabrication and in-factory testing process.
The modular chiller solution allowed for phase one HVAC systems to be erected within the existing legal setbacks. The two subsequent phases will be placed adjacent to the first modular chillers as the necessary variances are obtained.
About Integrated Design Group Inc.
Integrated Design Group Inc. (idGroup) was established in 2003 to meet the increasingly sophisticated needs of business, education, and research institutions by providing a unique combination of architectural design, engineering, and project management. An inter-disciplinary design firm, idGroup specializes in projects that are highly complex and mission-critical, with technical and data intensive needs, typically under time sensitive schedules. In addition to making the Inc.5000 list for the second year in a row, this year the firm was recognized by the Boston Business Journal as one of the fastest growing privately owned companies in New England and is one of only 11 firms to receive the Pacesetters Award three years in a row.
# # #