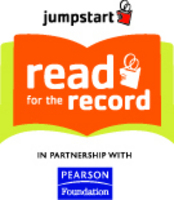 Boston, MA (PRWEB) October 8, 2009
Today, Jumpstart's Read for the Record will set a new record for the world's largest shared reading experience and raise funds for early education in low-income communities. People everywhere will join together to read the beloved children's classic The Very Hungry Caterpillar by Eric Carle, to more than one million children across the country and globe.
Presented in partnership with sponsor and founding partner Pearson, Jumpstart's Read for the Record is a celebration of reading and community service created to raise awareness about the importance that reading with young children has in developing crucial early language and literacy skills they need to succeed in school and in life. Each year, one third of America's children arrive at their first day of school developmentally behind their peers and without the skills necessary to succeed. This year's campaign will donate hundreds of thousands of books and raise more than $2.5 million to support Jumpstart's yearlong work with preschool children.
The official campaign book for the 2009 Read for the Record is a special, limited edition of the Philomel Books classic The Very Hungry Caterpillar, by Eric Carle. Published by Penguin Young Readers Group, this commemorative book includes a foreword with messages of support from Matt Lauer, Meredith Vieira, and Mary-Louise Parker and from recording artist, and two-time Grammy Award winner, LL Cool J. Walmart stores nationwide are offering the official limited edition copy of The Very Hungry Caterpillar in support of Jumpstart's Read for the Record. All net proceeds from the book sales will be donated to Jumpstart*.
Anyone, anywhere can participate in Jumpstart's Read for the Record by pledging to read at readfortherecord.org, buying their official limited-edition campaign book at Walmart, and then reading with a child at home or at one of the thousands of grassroots campaign events taking place in schools, libraries, town halls and community centers across the country. To see what's happening in your community, visit the Event Finder at readfortherecord.org.
Today's global event kicks off with an early morning reading on NBC's TODAY Show with hosts Matt Lauer and Meredith Vieira, The Very Hungry Caterpillar author Eric Carle, and celebrity readers including Mary Louise Parker, Mario Batali, Giada de Laurentiis, Jenna Bush Hager, Tiki Barber, Vince Vaughn, Sonia Manzano, Justin Bieber, Jennifer Stone and Madison Pettis. Other celebrities joining reading events across the country include Lo Bosworth, Henry Winkler, Smokey Robinson, Bill Nye: The Science Guy, Emily Osment, Lil' Mama. These celebrities will join governors, first ladies, members of congress, mayors and business, philanthropic and community leaders in city-wide kick-off celebrations in major cities including Atlanta, Boston, Chicago, Los Angeles, New York, San Francisco, and Washington, DC. In all, Jumpstart's Read for the Record hopes to read to more than one million children in today's events. Media advisories are available at readfortherecord.org/media.
Jumpstart President James Cleveland noted the importance of the joint efforts made by the Campaign's sponsors. "Working together is critical to our common goal of eliminating the early education gap that exists between income levels. Today's first graders from low-income communities have one-fourth the vocabulary of their mid-income peers, immediately putting them at an unnecessary disadvantage," said Cleveland. "By drawing attention to this gap, and by giving children the tools they need, we can help lower their likelihood to repeat grades, drop out of school, and even engage in criminal activity."
"Focusing everyone's attention on one book for a single day highlights the importance of reading as the foundation of all learning," said Pearson Foundation President Mark Nieker. "All of Jumpstart's Read for the Record Campaign partners look forward to setting a new record today, and in the process to showcasing the critical role this great organizations plays in supporting literacy at a crucial point in a young child's life."
Exemplary Corporate Citizens Support Jumpstart's Read for the Record
Over the past three years, Jumpstart's Read for the Record has raised more than $3 million to support Jumpstart's mission of ensuring that every child enters school prepared to succeed, and more than 500,000 books have been donated to children in need.
Recognizing the urgent need to combat the childhood literacy crisis and provide early reading experiences to children from low-income communities, Jumpstart and Pearson
Foundation are joined in supporting Jumpstart's Read for the Record by Jumpstart's National Corporate Partners American Eagle Outfitters and Sodexo, and Walmart, the campaign's Official Retail Partner. Below are highlights of their support:

Pearson, the campaign's sponsor and founding partner, has again underwritten Jumpstart's Read for the Record. The Pearson Foundation provides more than 250,000 copies of the campaign book to at-risk children in school districts and community organizations worldwide. Pearson and its employees across the U.S. and are today taking part in Jumpstart's Read for the Record celebrations. They have also worked with governors, mayors, PTAs, schools, libraries, and local organizations to spread the word and highlight the importance and the power of reading.
Penguin Young Readers Group has again published the custom limited edition of the official campaign book. For the fourth consecutive year, the Penguin Young Readers Group has provided the book at the heart of the Jumpstart Read for the Record Campaign, and helped promote among its readers the importance of of reading to children across all regions and cultures in the United States.
American Eagle Outfitters is reaching out to its broad customer base to encourage participation in the record breaking event today. AE also purchased thousands of special edition copies of the official campaign book and passed them along to their employees to read to children in communities throughout the United States and Canada. The company's efforts will culminate today in an event organized for Jumpstart children in Pittsburgh, home of AE's corporate headquarters.
Sodexo has supported Jumpstart for several years to help break the cycle of poverty that exists today in America. Through this partnership, Sodexo supports Jumpstart's efforts to improve early education in order to eliminate the achievement gap, which leads to future social and economic disparities. Sodexo views the Campaign as a critical tool in increasing visibility for this social imperative and plans to get involved on campuses and in schools across the country on October 8th, 2009.
Walmart, the official retail partner of Jumpstart's Read for the Record, is selling limited-edition copies of The Very Hungry Caterpillar thru October 31, with net proceeds from book sales benefiting Jumpstart's year-long programs. Walmart believes in a philosophy of operating globally and giving back locally. To that end, Walmart partnered with Jumpstart's Read for the Record. As a corporation, Walmart believes it can make the greatest impact on the communities it serves globally by supporting causes that are important to its customers - right in their own neighborhoods.
With this incredible support from Jumpstart's 2009 campaign sponsors and enthusiastic participation of hundreds of other organizations invested in early education, this year's campaign promises to be the largest yet.
Jumpstart - through Jumpstart's Read for the Record campaign and intensive early education programs - pairs college students and community volunteers with children in low-income communities who work together for an entire school year on the language, literacy and social skills they need to achieve not only in school, but in life.
To find out more about Jumpstart's Read for the Record, visit http://www.readfortherecord.org. To find out more about The Pearson Foundation, visit http://www.pearsonfoundation.org. To find out more about Jumpstart, visit http://www.jstart.org.
A minimum of $1.00 (12.5% of the retail price) for each book purchased.
About Jumpstart
Jumpstart is a national early education organization that works toward the day every child in America enters school prepared to succeed. To cultivate a child's social, emotional and intellectual readiness, Jumpstart brings college students and community volunteers together with preschool children for year long, individualized tutoring and mentoring. Since 1993, more than 70,000 preschool children across America have benefited from millions of hours of Jumpstart service. Jumpstart's national sponsors include American Eagle Outfitters, AmeriCorps, Pearson, Sodexo and Starbucks. Jumpstart is the five-time recipient of the Fast Company/Monitor Social Capitalist Award (2004-2008) and has received a 4-star rating from Charity Navigator. For more information, visit the Jumpstart Web site at http://www.jstart.org.
About the Pearson Foundation
Pearson, the international education and information company, is Jumpstart's Read for the Record's Sponsor and Founding Partner. The Pearson Foundation extends Pearson's commitment to education by partnering with leading nonprofit, civic, and business organizations to provide financial, organizational, and publishing assistance across the globe. The Foundation aims to make a difference by sponsoring innovative educational programs and extending its educational expertise to help in classrooms and in local communities. For more information, visit http://www.pearsonfoundation.org.
###