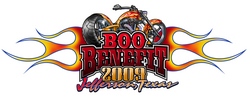 We're extremely grateful to all the riders and supporters of the Boo Benefit that have made this rally such as success over the years
Marshall, TX (Vocus) October 10, 2009
The Boo Benefit, a motorcycle rally benefiting burn survivors and their families, returns to Jefferson, Texas for its 12th annual year this October 9-11, 2009.
The Boo Benefit is the largest bike rally in the region with more than 30,000 bikers expected to attend. The three-day event includes live music, two poker run routes, bike show, bike games, silent and live auctions and much more.
Organized by Charles "Boo" Chaler and his wife, Patsy Chaler, the benefit raised $200,000 in 2008 for the Percy R. Johnson Burn Foundation and the Shriners Hospitals for ChildrenTM.
The event began in October 1998 after Boo Chaler was burned over 95 percent of his body in a welding accident. Several of Chaler's friends turned to his passion of motorcycle riding, holding a rally in his honor while he was still hospitalized at the Regional Burn Unit at Louisiana State University Health Sciences Center (LSUHSC) in Shreveport, La.
Chaler and his wife, Patsy, donated the funds raised to the Percy Johnson Foundation and began the annual benefit event.
The Foundation primarily supports Camp I'm Still Me (formerly Louisiana Burn Camp), a cost-free, week-long summer camp for children and adolescent burn survivors; and The Chaler-Rods House, a respite house near the regional burn unit at LSU that houses out-of-town families of burn patients who cannot afford hotels for extended stays.
"Our dream is that every burn survivor child wishing to attend summer camp will be able to attend," said Boo Chaler. "When we began this, we never imagined this rally would grow to the size it has, or that we would be able to do so much with the money raised."
"We're extremely grateful to all the riders and supporters of the Boo Benefit that have made this rally such as success over the years," said Patsy Chaler. "We look forward to providing an even more exciting event this year."
In addition to the events offered in 2008, new for 2009 is Biker's Row. This is a showcase of homegrown bike builders, including Shade Tree Fabrication (Kyle Shore), P-Rod's Choppers (Rod Rodriguez), Killa Cycles (Mario "El Jefe" Cavazoa) and Biker Barn (Kenny Odum).
For more information about the Boo Benefit, visit the Web site at boobenefit.org.
About Boo Benefit:
Founded in 1998, the Boo Benefit is a motorcycle rally in Jefferson, Texas to benefit child burn survivors and their families. More than 30,000 bikers attend this popular and growing event. All proceeds benefit the Percy R. Johnson Burn Foundation and the Shriners Hospitals for ChildrenTM. For more information, visit their Web site at BooBenefit.org.
###