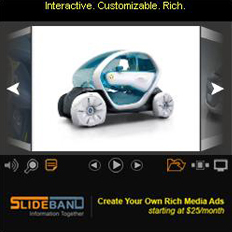 New York, NY (PRWEB) October 14, 2009
SlideBand, LLC has announced the launch of its first DIY interactive product: a Flash-animated slideshow widget that supports up to 200 file types within its viewer. This widget can double as a rich media banner ad. This is the most versatile user-generated content (UGC) widget on the web, and serves the purposes of any online marketing campaign. Users can easily upload content and media to create their own SlideBand widget and post it all over the web! The widget can be edited and revised at any time through a simple online Content Management System (CMS) so that content stays fresh and up to date. The SlideBand widget banner ad comes in three sizes standardized to IAB guidelines for online advertising.
Whether launching a rich media banner ad campaign, posting real estate or classifieds advertisements, promoting a travel package, providing an online portfolio and resume with video interview, or putting together an educational presentation, the SlideBand widget is a solution for design and delivery. The audience can even open documents directly from the widget to view spec sheets, PDFs, AutoCAD files, and more. Links can be embedded into each slide, providing publishers and advertisers with a unique tool for promoting multiple products or services.
The free version of the SlideBand widget is perfect for blogs and websites that need to display a variety of media and information in a small space. By including videos, images, and documents to provide information and media to an online audience all in one compact (and Flashy!) widget, subscribers will find they have an incredible tool for keeping their visitors attention on the screen.
The product can also be white-labeled (the free version contains a banner that advertises SlideBand.com), in which the banner and header of the widget can be customized. This allows online advertisers and marketers to develop a collection of files and graphics within a SlideBand widget banner ad for a reasonable monthly fee (advertisers often spend hundreds or even thousands of dollars for interactive digital advertisements to be developed). The SlideBand widget banner ads can be updated and revised on the fly, affording advertisers the ability to use the same widget banner ad for multiple campaigns or to update campaigns for special deals and promotions.
Affiliate marketers will find the SlideBand widget to be perfect for niche-focused advertising by embedding their affiliate banners and links into the slideshow along with informative reviews, websites, and videos. The SlideBand widget can work just like a mini-site or rich media blog; affiliates no longer need to register multiple domains or blog addresses to deliver their campaigns to targeted audiences.
Signing up at SlideBand.com is free; it's easy to create your own interactive Flash widget and use it across the board for personal or business purposes. You will receive your own account and profile where you can save your SlideBands and widgets as well as interact with others that are part of the SlideBand community. SlideBand is changing the face of online communications and setting new standards for interactivity.
###