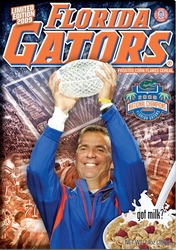 Milk is one of the most nutrient-rich foods you can buy and we work hard every day to provide it to the many Gator fans who enjoy it
Maitland (Vocus) October 13, 2009 -
Gator fans can win a refrigerator full of fresh, Florida milk to pour over their Florida Gators Frosted Flakes.
The "Free Fridge" contest is one of the features of the sixth edition of the cereal, a joint effort between Dairy Farmers, Inc. - Florida's milk promotion group - and Gator Sports Marketing.
Beginning in mid-October, more than 20,000 boxes of the cereal will be available on Gatorzone.com and at participating grocery stores throughout the state, including Winn Dixie, Sweetbay and Albertsons.
Florida's dairy farmers are the longest running sponsors of the Florida Gators and are pleased to offer another edition of the cereal box, not to mention a unique opportunity for fans to win a refrigerator and a year's supply of milk.
"Milk is one of the most nutrient-rich foods you can buy and we work hard every day to provide it to the many Gator fans who enjoy it," said Matt Lussier, an Alachua County dairy farmer and President of Dairy Farmers, Inc.
The front of the cereal box features Coach Urban Meyer hoisting last season's national championship trophy. The back of the box has information reminding customers how - at about 25 cents a glass - milk remains a nutritional bargain at the grocery store.
More information about Florida's dairy industry and the "Free Fridge" contest can be found at http://www.floridamilk.com.
Contact: Aaron Wockenfuss
Dairy Farmers, Inc.
(407) 647-8899
###