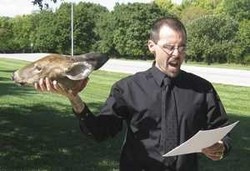 The man who kills the animals today is the man who kills the people who get in his way tomorrow.
Lenexa, KS (PRWEB) October 10, 2009
As the leaders of the affluent and progressive Johnson County, Kansas (in the suburbs of Kansas City, MO) prepare to slaughter over 300 innocent, defenseless deer in a family park, Bite Club of KC's Jason Miller presented them with a severed deer head he dubbed Victoria--so named for the Catholic saint who was beheaded.
Procured from a meat-processor's garbage and publicly unveiled on 9/25/09, Victoria the deer has now become the macabre symbol of Death Park, formerly known as Shawnee Mission Park. Despite the animal advocates of Bite Club presenting local and state officials in Johnson County, Kansas with a viable, cost-effective nonlethal deer management plan, said leaders stubbornly insist on annihilating over 300 does, bucks and fawns with a hail of bullets.
From the lush, scenic gem of Johnson County to a bloody, viscera-laden slaughter-house, Shawnee Mission Park is set to become Death Park.
Here is a link to a description of world-renowned wildlife defender Anthony Marr's nonlethal plan to create a deer preserve instead of annihilating the deer:http://biteclubkc.wordpress.com/2009/09/14/slaughter/
You can help stop this senseless, barbaric and unnecessary massacre: Bite Club of KC is calling for a business and tourism boycott of Death Park--and all of Johnson County, Kansas--until they agree to create the deer preserve; and for the public to vote the elected members of the Johnson County Board of Commissioners and their appointees at the Johnson County Parks Board out of office--if the deer are massacred; and for readers to contact the people below to demand that they build the deer preserve instead of snuffing out the lives of hundreds of majestic creatures.
Kansas Governor Mark Parkinson http://www.governor.ks.gov/comments/comment.htm
785-296-6240
Kansas Dept of Wildlife Big Game Coordinator Lloyd Fox
620-672-5911 or 785-296-2281
Johnson County Parks Director Michael Meadors
913-438-7275
Johnson County Board of Commissioners BOCC
913-715-0430
"The man who kills the animals today is the man who kills the people who get in his way tomorrow." ---Dr. Dianne Fossey, Woman in the Mists (she was killed by someone who killed animals yesterday.)
###