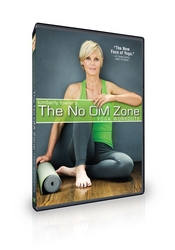 What sets this yoga DVD apart from others in the market is that I try to make yoga more accessible to the masses. It's such a great workout, but people don't want to try it
Venice, CA (PRWEB) October 13, 2009
For the past eight years, Fowler has successfully recruited thousands to her Yoga for Athletes program® with her promise of "no chanting, no granola, and no Sanskrit." But now, Fowler is setting her sights on ushering in a new crowd of yogis by calling out to the athletically-intimidated who can't touch their toes and who might not have access to YAS, Fowler's fitness centers.
"What sets this yoga DVD apart from others in the market is that I try to make yoga more accessible to the masses. It's such a great workout, but people don't want to try it," says Fowler.
The DVD offers three simple, 15-minute workouts for the upper and lower body as well as the core. Offering a head-to-toe approach to yoga, the DVD acts as a visual sampler of her first book, The No OM Zone, which hits bookshelves in April, and outlines yoga's healing and strengthening qualities one body part at time.
"The reason I made 15-minute workouts is because I know we are all 'time deprived,' with no time to work out. I truly believe a little bit of yoga is better than none," explains Fowler. "That way the workout is divided and allows you to come back for more, if you are short on time."
A firm believer that "a little bit goes a long way," Fowler compressed her yoga 101 training into bite-sized workouts that would leave viewers hungry for a full serving of The No OM Zone book. The book delves into greater detail, offering guidelines for yoga etiquette, which would allow any novice to saunter into a class with the confidence of a pro, as well as 13 yoga routines for the head, shoulders, knees, and toes. And yes, Fowler makes yoga as fun and carefree an old-school nursery rhyme, but with a lot more sass.
"I developed these workouts for those of you who have heard of yoga or tried a class and thought, 'This just isn't for me. I want to change your mind," challenges Fowler. "It's not about who can turn themselves into a pretzel or changing your whole lifestyle, it's about balance!"
With New Years' Eve fast approaching, Fowler is marketing the perfect stocking stuffer: The No OM Zone Yoga Starter Kit, complete with signature YAS mat, towel, and "No OM Zone" DVD. According to Fowler, the three-piece yoga tool kit is "everything you need to get off the couch and on to the mat--no excuses."
A testament to her "no excuses" approach to life, Fowler's survival instinct coupled with her 27 year long love affair with yoga has allowed her to survive near-fatal accidents, terminal brain cancer, and successful careers as both a powerhouse litigator and a CEO of a vitamin company. A chameleon in her own right, Fowler left the corporate and legal worlds to establish her burgeoning YAS empire. Now, with the release of her DVD, Fowler is bringing the yoga studio to a living room near you. By sharing her modern and practically packaged form of yoga, every one has the tools to make their yoga practice a life-long resolution. And in this case, the first step towards cultivating a "new you" is to simply press: "play."
Visit Kimberly Fowler, Founder of YAS Fitness Centers, creator of YOGA for ATHLETES® and Yoga Hybrid YAS class, Fitness Expert/Motivational Speaker/Author, at http://www.go2yas.com, or contact her at kfowler (at) go2yas (dot) com, (866) YAS-YOGA.
###